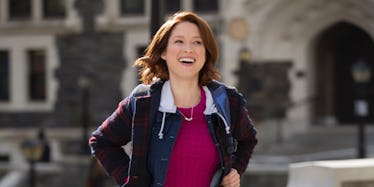 'Unbreakable Kimmy Schmidt' Fans Just Received Some Good News & Some Bad News
Netflix
Forget power poses, because all I need to feel pumped is a listen to the theme song of the Netflix hit Unbreakable Kimmy Schmidt. Who doesn't love a reminder that females are strong as hell? When it comes to the show itself, I've loved Kimmy's optimism and innocent humor since the start, but when Unbreakable Kimmy Schmidt returns for Season 4, it will soon complete Kimmy's story. The comedy will end after the upcoming season, but we still may have awhile until we have to face a finale, so when does Unbreakable Kimmy Schmidt Season 4 premiere?
Variety reports that Unbreakable Kimmy Schmidt will wrap with the upcoming Season 4, but the bad news comes with some happier info. For one thing, Season 4 is set to launch on Netflix on Wednesday, May 30, but unlike past episodes, the season will premiere in two parts. Season 4's first six episodes will debut in May, while the remaining episodes will premiere on an unknown date later in the year. In addition to Netflix helping us avoid a quick bingewatch, the streaming platform and show producer Universal Television are reportedly considering a movie special as the series finale. "Kimmy Makes a Movie!," anyone?
While it's a little heartbreaking that there are only a few of Titus's moneymaking schemes and Jacqueline's identity crises left to look forward to, Season 4 already promises to show Kimmy (Ellie Kemper) in a new, mature light. We've seen her grow from a woman who spent her teen years trapped in an underground bunker to someone ambitiously adapting to normal life in the big city, and Season 4 ought to be a perfect capstone of that growth.
A Netflix promo for the new season parodies the opening of The Mary Tyler Moore Show, showing Kimmy cheerfully walk to her new job at a startup company. What initially seems like a dream opportunity gets a little more complicated when she realizes that her position will entail tough confrontations with co-workers. As Kimmy would say, what the fudge?
It isn't clear yet if series co-creators Tina Fey and Robert Carlock have chosen to end the show on their own or if Netflix cancelled it. Since "cancelled" isn't included in the phrasing of the official announcement, I'd bet that Fey and Carlock decided that the original story they wanted to tell was winding down. Either way, fans on Twitter aren't thrilled about the idea of the show having an end date in sight.
Meanwhile, other people are rooting for a Tituss Burgess-helmed spinoff and, TBH, I wouldn't mind this at all.
Other than delving into Kimmy's life at her new job, Season 4's plot is largely a mystery. We can expect the show to follow through on new developments reached in the Season 3 finale, including Jacqueline's (Jane Krakowski) decision to be an agent and Titus wanting to win Mikey back. Hopefully we also have another Tina Fey cameo to look forward to, but perhaps she'll save that special appearance for this supposed movie finale. Busy Philipps has also been locked to play a guest character opposite Carol Kane's wacky landlady Lillian. Exclusive photos of Season 4 hint at some antics the characters get up to and confirm an inevitable appearance from robots, but the majority of the season is a blank slate for fans.
Now that we know the series finale is approaching, I'll gladly accept this kind of ambiguity moving forward. Take your time with putting out those last few episodes, Netflix. We'll need to cherish whatever's left of Kimmy and Titus's roommate shenanigans.
The first six episodes of Season 4 of Unbreakable Kimmy Schmidt debut on Netflix on Wednesday, May 30.