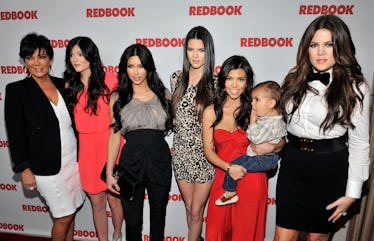 A Group Of Librarians Recreated The Kardashians Anniversary Cover & I Am Weak
Toby Canham/Getty Images Entertainment/Getty Images
One group of librarians has proved they're the only people on the planet truly able to keep up with the Kardashians because if the rest of us could keep up, we would have thought of this idea ages ago. The social media team of an Invercargill, New Zealand, library has gone viral after doing a photo shoot recreating the Kardashian family's most recent magazine cover. And let me tell you, these librarians recreating the Keeping Up With The Kardashians anniversary cover will make you feel like you have betrayed meme culture for not also coming up with the idea.
In case you missed it, the Kardashians have officially been dominating social media and reality TV for 10 years now. (I know, we old AF, fam.) To commemorate the special anniversary, Kris, Kim, Khloé, Kourtney, Kendall, and Kylie did a special interview with The Hollywood Reporter and served as the issue's cover stars. The interview came out just before the anniversary special aired on E! on Sunday, Sept. 24.
This is the original Kardashian cover:
And this is the recreation. I aM cRy!nG:
The caption on the iconic post said,
It has been 10 years since the Kardashians first graced our screens. To celebrate, our social media team decided to have a totally impromptu, definitely not planned, photo-shoot.
The post quickly went viral on Facebook, gathering over three thousand shares since it was posted on Friday, Oct. 13. The library's digital and communications manager, Bonnie Mager, told BuzzFeed they got the idea in one of their weekly meetings where they discuss how best to promote the library. In the photo, Mager recreates Kylie Jenner. She said,
This week we saw it was 10 years of the Kardashians, so we decided it would be funny to somehow channel the Kardashian with a library spin. We picked that photo to spoof because it's iconic and also we thought how funny would that look with ordinary people in it.
Funny, it is, Bonnie. Funny, it is. I would also venture to say it is iconic. Maybe even more so than the original? Ahhhhh, OK, I'm getting ahead of myself here. On another note, people on Twitter and Facebook are eating this up.
The post, aptly named "Keeping Up With The Librarians," received over 800 comments on Facebook because no one can handle its grace and majesty. One user commented, "U guys are the sexiest bunch of librarians working in one place, that I have ever seen!! Even in a spoof shot lol." Another said, "This looks hella prepared. Amazing." And then, they were challenged to make an entire calendar of these recreated cover shoots as a fundraiser for the library. And it looks like they might actually do it!
One user suggested, "You guys going to throw out a challenge to other libraries to also do their take on a magazine cover? If you get 11 more, there's the calendar!!!" To which the library replied, "We are going to talk about one tomorrow at work as a way to fundraise for the library." Bless. I don't know about you guys, but I would buy this calendar in a hot minute. Mager told BuzzFeed they had no idea the post would go viral (does anyone?), but they're happy people are loving their idea. She said,
We create so much original content that we love, and we can never predict which will go viral and which won't. The reactions have been so positive. People love the humour of it.
I would just like to sincerely thank all of the librarians in this photo for committing to the role and paying so much attention to the tiny details of the photo. I mean, that color coordination? Come on. In the immortal words of Kris Jenner: