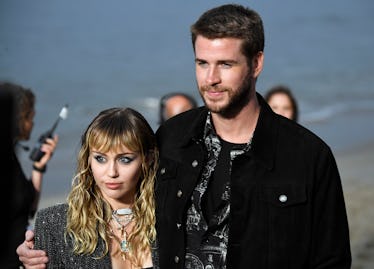 Liam's First Comment After Splitting From Miley Will Break Your Heart
Frazer Harrison/Getty Images Entertainment/Getty Images
As if the news of their split wasn't devastating enough in and of itself, Liam Hemsworth's response to his Miley Cyrus separation is pretty much the most heart-wrenching thing you'll see all day. Unless, like, you watch Marley and Me. But that's really the only exception I can think of. The Daily Mail reported that Hemsworth, 29, was on his way to get frozen yogurt on Aug. 12 with his older brother Chris Hemsworth, 36, when a reporter stopped him to ask about his split with Cyrus. "'You don't understand what it's like," he told the Daily Mail Australia reporter. "I don't want to talk about it, mate."
The Daily Mail also noted that the trip to town was reportedly Hemsworth's first time out in public after "having spent the day holed up" in his older brother's $4.3 million beach house in Australia's Byron Bay. Anyone who's ever watched a video of a celebrity aggressively avoiding paparazzi and reporters as they get hounded with questions can attest to the fact that celebs don't typically like to respond to random strangers who ask them questions about their personal lives on the street. The fact that Hemsworth went so far as to respond in such a vulnerable way is an extremely rare little glimpse into how he may be feeling after splitting from his wife.
Rumors of Hemsworth's split from Cyrus, whom he married in December of 2018, started circulating on Aug. 10 when the 26-year-old singer posted a picture of herself on Instagram, in which her engagement ring is visibly missing:
A rep for Cyrus confirmed the couple's split in a statement to People on Aug. 10. "Liam and Miley have agreed to separate at this time. Ever-evolving, changing as partners and individuals, they have decided this is what's best while they both focus on themselves and careers," the rep said. "They still remain dedicated parents to all of their animals they share while lovingly taking this time apart. Please respect their process and privacy."
Based on his statement to the reporter, Hemsworth is definitely on the same page about the needing privacy thing. And, I mean... can you blame him? Going through a breakup is hard enough as a normal person. It's probably only a million times harder when you also have the entire world gossiping about it.
While Hemsworth seems to be coping with the split by spending quality time hanging with his family, Cyrus has been spotted out and about on vacation in Italy with Brody Jenner's soon-to-be-ex-wife Kaitlynn Carter. One picture, shared exclusively with Entertainment Tonight on Aug. 10, even featured the two newly single ladies reportedly making out.
Cyrus also wasn't here for Jenner making a joke about holding hands with Hemsworth as retaliation to their exes:
Cyrus, who identifies as pansexual, spoke candidly about her sexuality during an interview with Elle in July of 2018 when she was still married to Hemsworth. "I'm in a hetero relationship, but I still am very sexually attracted to women," she explained. "People become vegetarian for health reasons, but bacon is still f*cking good, and I know that. I made a partner decision. This is the person I feel has my back the most."
In the same interview, Cyrus also opened up about her discomfort with the idea of being someone's wife. "I definitely don't fit into a stereotypical wife role," she said. "I don't even like that word." She went on to quote a song she wrote called "Never Be Me" in which she says: "If you're looking for faithful, that'll never be me. If you're looking for stable, that'll never be me. If you're looking for someone that'll be all that you need, that's never going to be me."
Here's to hoping both Cyrus and Hemsworth find someone who appreciates who they are as individuals, even if that person isn't each other.