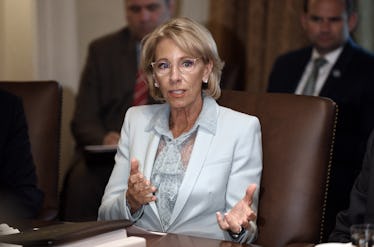 It's 2018. Why Is Homophobia Still Part Of Some Schools' Curriculum?
Pool/Getty Images News/Getty Images
As a now "out" lesbian, it's exhilarating to watch as more Americans ban together against LGBTQ conversion therapy. Yet this fraudulent practice represents just one — if not the most lethal — of the dangers threatening the lives of LGBTQ youth in the U.S. Compared to their non-LGBTQ peers, LGBTQ youth in the U.S. experience higher levels of depression and suicide, substance abuse, family rejection, homelessness, and discrimination in school. In a 2017 survey of more than 12,000 LGBTQ teenagers across the nation, the HRC Foundation and the University of Connecticut found only 26 percent of LGBTQ youth say they always feel safe in their school classrooms. Even more alarming: only 5 percent of LGBTQ youth say all of their teachers and school staff are supportive of LGBTQ people.
Safe schools matter for LGBTQ youth. According to the CDC, positive school climate has been associated with decreased depression, suicidal feelings, substance use, and unexcused school absences among LGB students. A North London school reportedly "more or less eliminat[ed] homophobic bullying" in its classrooms and playgrounds by simply teaching its students lessons on gay historical figures who suffered persecution, according to The Guardian.
Despite these findings, LGBTQ students in America continue to face homophobia because of Congress' failure to enact civil rights protections based on sexual orientation, which means federal law still does not explicitly stop private schools from discriminating against LGBTQ students or the children of LGBTQ parents applying for entrance or from discriminating against LGBTQ teachers while hiring.
Maryland is the only state that has banned private schools enrolled in school choice programs from discriminating on the basis of sexual orientation, according to Education Next executive editor Mike Petrilli. Private schools run by religious organizations remain exempt "to the extent that application of Title IX would be inconsistent with the religious tenets of the organization." The majority of private school students in the U.S. (78 percent, per the Council for American Private Education) attend religiously-affiliated schools, which are legally allowed to discriminate against LGBTQ students and teachers on religious grounds.
This is not a technicality. Schools continue to exercise this option to discriminate against LGBTQ people. In a 2017 study, Rebecca Klein of HuffPost found that at least 14 percent of religious schools have explicit policies against LGBTQ students, staff, or both.
In the early 2000s, I attended one of these private religious high schools as a day student at a Catholic boarding school in New England. I was never aware of any openly LGBTQ students or faculty. There was no gay-straight student alliance or LGBTQ-inclusive curriculum.
A Dean's List student and tri-varsity athlete, it seemed my future was bright. Yet, internally I was in a state of flux. I was drowning in an identity that I was being taught did not warrant coming up for air. I dreaded my mandatory religious classes, school formals, and persisting same-sex attractions.
"I cannot be gay."
Such educational environments are toxic for LGBTQ youth. These schools thrust young people into a world brimming with bronze kneelers, mandatory religious classes, and the rigid gender binary. They replace lessons of inclusivity and acceptance with blank blue books waiting to be filled with harmful teachings. Conservative religious ideology is everywhere: in the dress code, in the classroom, on the sports field, and in students' heads. Eventually, this homophobia seeps into you.
In religion class, I learned to define "homosexuality" in the same breath as "bestiality." I, along with my classmates, regurgitated homophobic sentiments in exchange for a top grade. "Coming out" never felt like an option. By the time I crossed the graduation stage, my self-worth lay in pieces. The next years of my life would focus on un-learning.
Due to lack of legislative action, this reality lives on. Too many LGBTQ students continue to spend their formative years in high schools lacking both crucial representation and protections against anti-LGBTQ policies. For example, access to an LGBTQ club has been shown to positively impact LGBTQ students' school experiences, according to the HRC's study. Yet only three out of five LGBTQ students have access to a LGBTQ student club, according to that same study. This statistic should be 100 percent.
Congress, educators, and school administrators all have an obligation to ensure every LGBTQ student has access to safe, inclusive spaces at each point in their educational journey. Like all young people, LGBTQ youth deserve role models. They deserve acceptance. They deserve to learn about their past, and most of all, they deserve to be excited about their future.
Thankfully, LGBTQ representation is increasing throughout American society, including notable rises in entertainment and politics. But as I watch Secretary of Education Betsy DeVos, along with the rest of the Trump administration, I find myself drifting back to when I was 15 years old sitting in religion class.
No one can "pray the gay away." Not in conversion therapy camps. Not in a place of worship. Not around a kitchen table. Not because an "ex-gay" proclaims it to be true. And not in a classroom.
It is time for Congress to enact legislation to protect the physical and mental health of LGBTQ students in each and every school. It is time to pass the Equality Act, to finally amend civil rights law to explicitly include sexual orientation and gender identity as protected characteristics. The safety to live authentically is a fundamental human right — one that needs to be respected in all elementary schools, high schools, and universities.
Katie Sgarro is co-founder of UPchieve, an ed-tech nonprofit providing on-demand tutoring and college counseling to underserved high school students in the U.S.