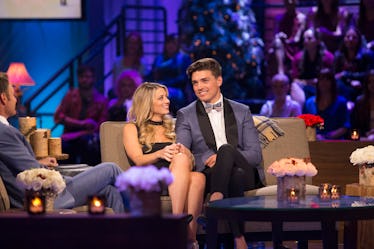 Lesley & Dean Posted On Instagram About Their Breakup & I'm Not Crying, You're Crying
ABC/Paul Hebert
It's been a rough week for fans of Bachelor Winter Games. On Thursday, April 5, contestants Clare Crawley and Benoit Beauséjour-Savard announced their breakup just weeks after getting engaged on the show. Fans were hoping that would be the worst of it, but then, on Friday, April 6, news broke that Dean Unglert and Lesley Murphy were splitting up, as well. Cue the heartbreak. Both Lesley and Dean posted on Instagram about their breakup, so if you weren't already crying, get ready to break out the tissues. Neither gave details about the split, but they were both brutally honest about love and relationships, leaving me speculating about what really went down in their short-lived romance.
Lesley and Dean met during Bachelor Winter Games and immediately fell for each other. Their cute relationship was surprisingly drama-free for a Bachelor spin-off, and Dean's commitment shocked fans who had written him off as a bad dude (remember that Bachelor in Paradise love triangle?). But ultimately, the Winter Games glow wore off, and the two split due to the stress of maintaining a long-distance relationship. A source close to the couple told E! News:
It is very recent, but they have been rocky for a few weeks now. Distance and traveling were a factor. They are both going to continue to be friendly and are on good terms, but their romantic relationship has ended.
When the news first broke, both Dean and Lesley remained quiet about the split. But the next day, Dean broke his silence with a long Instagram post about his new attitude towards love.
For a guy who has consistently been pretty self-centered during his time in the franchise (minus his stint on Winter Games), this is a really mature post. He's right: love isn't all roses and exotic dates, as The Bachelor would have us believe. While Dean isn't exactly spilling the tea about what went down with Lesley, he gives us an inkling of what happened in the post's final line:
I still have a lot of work to do on myself, a lot to prove to myself, before I'm ready for something like that.
Maybe Lesley was ready to take their relationship to the next step but Dean was hesitant? He's openly admitting that he's not "ready" for real love, so it seems possible that the split was caused by a little more than just distance.
And on Sunday, Lesley gave me even more to speculate about when she posted an entire novel on Instagram.
Lesley begins by thanking her fans for the "love and respect you've shown me over the past few days" and writes that she won't be able to get back to her regular life until she gives "an explanation." She goes on to say that she "came back to Winter Games because I've seen this franchise work miracles before" and explains that she's looking for a partner to love, but "most importantly," she's looking for someone "who is ready." Lesley is by no means calling out Dean, but she's definitely echoing some of the same sentiment from his post:
All we need is that same energy reciprocated, and despite how open and loving you attempt to be, people can only meet you as deeply as they've met themselves. Don't be afraid to be the one that loved the most and give everything you had, because you've got to find people who love like you do and who are ready. Out with the old, in with the ᴛʀᴜᴇ. It was a long winter, and I'm excited for a new season. Let the spring cleaning commence. I'm ready.
OK, now I'm curious. All this talk about being "ready" and people "knowing themselves" really makes me think that Dean and Lesley were on separate pages in their relationship. That's not surprising, considering that Lesley hasn't appeared on a Bachelor spin-off in five years and has focused on creating a career as a travel blogger, while Dean is basically a perennial Bachelor contestant. These two are just in different places in their lives, so it's not shocking that they ultimately couldn't make it work.
All this being said, it seems like Dean and Lesley are taking their breakup in stride. Neither post was malicious (which, let's be honest, is always a possibility when Bachelor contestants are involved), and they were both super genuine about their feelings. I really do hope that these two are actually "friendly and on good terms," because that would be a small silver lining amid all this Bachelor Winter Games tragedy.