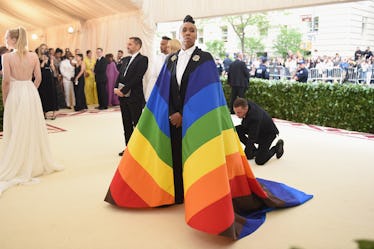 Lena Waithe Is Taking Over The World & Her Net Worth Is Just One Way She Proves It
Jason Kempin/Getty Images Entertainment/Getty Images
Don't let the title of her hit Netflix series, Master of None, fool you. Lena Waithe is a jane of all trades and master of everything. The actress, screenwriter, producer, and all around powerhouse is making major waves in the industry, and people are taking notice. Waithe's impressive resumé includes a starring role and writing gig for the Aziz Ansari-led dramedy, a creator credit on Showtime's The Chi, and a historic Emmy win. NBD. The Chicago-born triple threat nabbed a trophy for her "Thanksgiving" episode of Master of None at the 69th annual event, and became the first black woman to score the Emmy for Outstanding Writing for a Comedy Series. It's about damn time. *Cue all the applause.* If the acclaim wasn't proof enough that she's killing the game, there's also this: Lena Waithe's net worth is reportedly $15 million, according to Net Worth Post.
For Waithe, a career in film and television has been a longtime coming. Speaking to The Atlantic in 2017, she dished:
I've been obsessed with television since I was 7 years old, and I've always been writing on some level. My first official job was an assistant to the showrunners at [UPN's] Girlfriends. I got the chance to be around all these cool black people making art and that was really big for me. I was writing bad scripts for a while, and luckily those writers would give me feedback. I ended up working for Gina Prince-Bythewood and ultimately worked for Ava DuVernay on [her film] I Will Follow.
But her passion for the industry has always had a lot more to do with making statements about representation than making a paycheck. "I used to watch TV with my grandmother a ton," she said in Vanity Fair's April cover story. "I watched a lot of old [classic sitcom] TV. And it gave me an education in using your platform to protest, but without being preachy. And how you can use TV characters, fictitious characters, as a way to speak to who we are as a society."
Waithe has been vocal in creating a space for the LGBTQ community and women of color in Hollywood. In fact, her Master of None character, Denise, was originally intended as the straight love interest of Ansari's Dev. Instead, the role transformed to embody more of Waithe's own identity as a queer black woman. It was that historic, Emmy-winning episode where Lena looked back on her own coming out story and drew inspiration.
Waithe's personal experiences have continued to play out on screen. As creator of the recently premiered (and renewed!) Showtime drama The Chi, Lena's childhood on the south side of Chicago has served as the backbone of the series premise and her mission behind the project. Continuing to tell stories from the underrepresented perspective, Waithe looked to "humanize" the neighborhood. Ahead of its Jan. 7 debut, Waithe spoke to Vanity Fair about the show's south side portrayal, saying, "I really wanted to tap into those elements that I grew up with that are still there, which are elements of community, family, working-class folks, people trying to do their job, people chasing the dream."
Next up on her docket, Lena's set to produce the TBS pilot Twenties, according to Deadline. The series, which follows a queer black girl and her two straight best friends, was actually written in 2009 and is a dream realized for Waithe. "I always wanted to tell a story where a queer black woman was the protagonist, and I'm so grateful to TBS for giving me a platform to tell this story," she told Deadline. "Queer black characters have been the sidekick for long enough; it's time for us to finally take the lead."
Now engaged and planning a "super chill" wedding to fiancé Alana Mayo (she coincidentally proposed on Thanksgiving), there's no denying Waithe's got it all going on. The career, check. The gorgeous wife-to-be, check. The cash flow, triple check. And while her eye remains on the prize, it's evident that for her, that prize isn't the monetary kind.