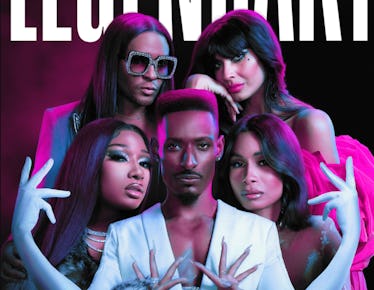 'Legendary' Season 2 Is Almost Here & The Guest Judge Lineup Is *Chef's Kiss*
HBO Max
Diversity, dancing, and some serious lewks come together in HBO Max's hit ballroom competition, Legendary. Pulling from the underground ballroom community, different voguing teams (called "Houses") compete in a variety of dance and fashion challenges to win an ultimate prize. With the next installment about to take center stage, here's everything you need to know about HBO Max's Legendary Season 2 release date, trailer, cast, and guest judges.
The show is a celebration of drag ball culture, an LGBTQ+ subculture in which attendees dance, vogue, walk, and pose for prizes and recognition. Drag balls are rooted in black and Latinx trans and queer communities, which is why Legendary is such an important — not to mention exciting — show to support in 2021.
Not only are the performances (and judges) absolutely incredible, but the fact that Legendary *actually* celebrates diversity is pretty major. Transgender women and gay men of color are some of the main stars of the show, and you can expect even more celebrations of diversity with the premiere of Season 2.
So, grab your best wig, do some light stretching, and practice your posing to get ready for the next ~legendary~ installment of your favorite ballroom competition series.