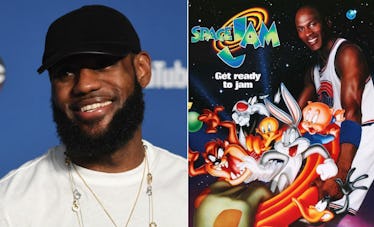 'Space Jam 2' Is Happening & The Official Tweet Will Make You Scream
Jason Miller/Getty Images Sport/Getty Images | Warner Bros.
Space Jam 2 is happening! And LeBron James is totally on board for it. Famed Black Panther director Ryan Coogler is also in on the gig and that has fans super excited about the film. LeBron James confirmed Space Jam 2 in an interview with The Hollywood Reporter and explained why it was important for him to have Coogler along for the ride. Coogler will serve as a producer on the film.
"I loved his vision," James said of Coogler's Black Panther. James also noted that there weren't any black superheroes for him to look up to when he was growing up. "So for Ryan to be able to bring that to kids, it's amazing," he continued.
Of his collaboration with Coogler for Space Jam, James said he hopes he can provide some sense of empowerment for young kids.
"The Space Jam collaboration is so much more than just me and the Looney Tunes getting together and doing this movie," James told THR. "It's so much bigger. I'd just love for kids to understand how empowered they can feel and how empowered they can be if they don't just give up on their dreams. And I think Ryan did that for a lot of people."
James' SpringHill Entertainment tweeted a Space Jam teaser announcement on Wednesday, Sept. 19. In the photo included with the tweet, there are references to Bugs Bunny, James, Coogler, and Terence Nance who will direct the film. Nance previously lent his talents to projects like HBO's Random Acts of Flyness, which he created, and The Oversimplification of Her Beauty on which he served as director.
Here's a look at the tweet:
Brings back all those childhood memories, doesn't it? Fans of the original Space Jam, which starred Michael Jordan and was released in 1996, are ecstatic over the news. The new announcement has basically made all their childhood dreams of a Space Jam sequel come true.
Here's how die-hard Space Jam fans are reacting on Twitter right now:
So, basically, fans are super excited about this announcement. And it seems like they've been waiting for this day to come. I mean, it's already been 22 years since the original film hit theaters, so these fans have been waiting a really long time. I can't blame them for being as excited as they are.
Not to mention, Space Jam is a classic at this point. The live-action/animation combination made Space Jam beyond legendary. And kids all over the world were totally obsessed with it (and still are today, obviously).
Now that those kids are adults with children of their own, it looks like they'll be able to dust off their old Space Jam merch and introduce it to the next generation. That's all thanks to James, who is arguably one of the greatest NBA players of all time.
In any case, Space Jam 2 is already cultivating a huge following and that's definitely good news for the box office. Can't wait to see it in theaters!