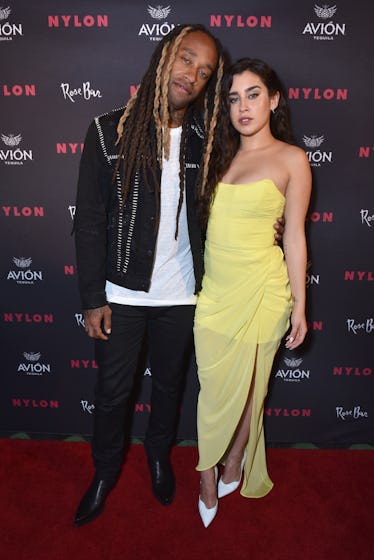 An Expert Analyzed Lauren Jauregui & Ty Dolla Sign's Body Language And I Am Legit Confused
Sean Zanni/Getty Images Entertainment/Getty Images
With the recent breakup and subsequent make up (thank god!) of Halsey and G-Eazy making headlines, another hip-hop/pop star celebrity couple flew under the radar. I'm talking about Lauren Jauregui & Ty Dolla $ign. If you haven't been paying attention to these two, then it's time to get up to speed on Lauren Jauregui and Ty Dolla Sign's body language and love story, ASAP. This is one hugely talented, good looking, all-around adorable couple.
To help catch you up, here's some quick background on the couple. Rumors that these two were an item began flying after they worked together on Fifth Harmony's "Work From Home" (Lauren has since left the group, which went on indefinite hiatus) and they began making regular appearances on each other's social media. At first they refused to confirm the relationship, but, in October 2017, Ty made it official in a radio interview with Power 105.1 in New York City. When asked about Lauren and if they were together, Ty said, "Just for you, I'll say yes."
Since then, the couple appears to be happy and in love — and they aren't afraid to express it on social media. Like when Lauren wrote "shout out to my amazingly loving, talented, thoughtful, love bug of a man. You are such a light in my life and I'm so grateful for you and it's an excuse to tell u that online so happy #NationalBoyfriendDay @tydollasign." Ty retweeted and replied, "I love you with my whole soul! So grateful to be able to call u mine my heart." Aww.
While I appreciate Lauren and Ty being so open about their love, I still can't help but want to know a little more about their relationship dynamic. To help get more insight, I reached out to Traci Brown, body language expert and author of Persuasion Point: Body Language and Speech for Influence. With a couple that is so open about their mutual affection, surely their body language is lit too, right? Well, that's where things get a little strange. Brown analyzed photos of them taken over the course of their relationship and and what she sees is… super surprising.