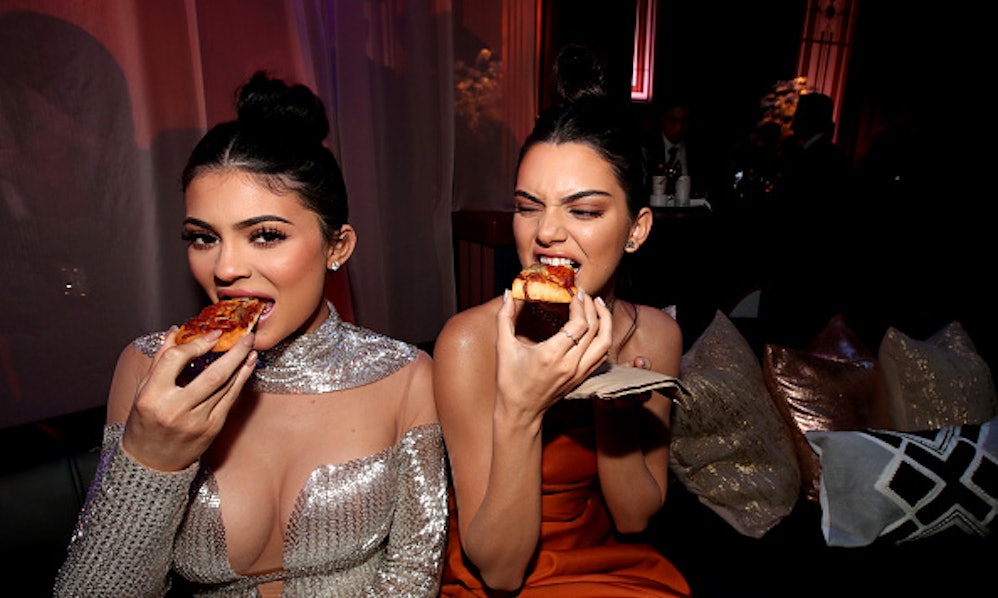 Christopher Polk/NBC/Contributor
Kylie Jenner's Go To Snacks Include All Your Favorite Junk Food & Seriously, Yum
Kylie Jenner may be a frontrunner for the queen of sleek selfies, but her sweet tooth and penchant for junk food gives us way more insight into her character than any Instagram upload ever could. There's something really satisfying about finding out that a celebrity's eating habits are just like yours. And once I learned about Kylie Jenner's go-to snacks (for starters, she's obsessed with Twizzlers and Diet Coke), all of my dreams came true.
Jenner's favorite snacks seem all the more contradictory when you take into consideration her A-list lifestyle. She could be snacking on caviar and water distilled straight from the heavens, but she'd rather go on a quick run to get a fast food burger, which is why I'm certain she'd be every girl's best friend.
My ideal day with Kylie Jenner would involve us grabbing a meal together at In-N-Out while she finally explains to me what I'm doing wrong when I apply products from her lip kit (seriously, it's so easy a monkey could do it, and I still manage to mess up all the time). After all, while she may be be the boss of a massive cosmetics empire, she's still ya girl Kylie deep down, and you know she's ready to chow down on some sweets and gossip about literally anything and everything.
OK fine, I'm not sure about the last part, but I'm positive I could find something to bond with her over. Let's start with her favorite foods! Here are a few of her go-to snacks.
1

Twizzlers
Kylie included Twizzlers on her "My Favorite Snacks" list on her own website, which is precisely why she and I are soul sisters. Twizzlers are by far the most snackable gas station treat out there. No mess, no stick, just twist and peel and chew.
2

Oreos

Oreos are another Kylie Jenner favorite, for an obvious reason: They're a snack fashioned by the gods as a gift to humans.

One has to wonder, though, if her lactose intolerance gets in the way of her ability to truly enjoy her Oreo experience. Seriously, what's an Oreo cookie without a tall, cold glass of milk to dip it in?
3

Sushi
Jenner's all about a good sushi roll, according to Teen Vogue. She's been known to frequent the high-end sushi chain Sugarfish in Los Angeles which, I can personally attest, is fantastic. Girl has some damn good taste.
4

Mexican Food
Mexican food is another one of Jenner's "things," which I can only assume means she loves guac as much as the next gal. It makes sense, since she spends a majority of her time in Los Angeles, where you can't step five feet without walking into a delicious Mexican spot.
5

Fried Chicken
Hold the phone: Kylie Jenner can make fried chicken?! Apparently, she's a damn good chef, and one of her specialties, according to her friend Justine Skye, is making "bomb fried chicken."
So, Kylie, when am I coming over for dinner?
6

In-N-Out Burgers
Jenner's been seen on several occasions making a trip to California's proudest monument: In-N-Out Burger. But she also recently revealed her lactose intolerance, so whether or not she's still ordering a double double is up for debate.
Either way, the relative significance of the deliciousness that is In-N-Out is not up for debate.
7

Candied Yams

Kylie Jenner on YouTube

Chef Kylie isn't a one-trick pony: She can also make candied yams, which feels random? But whatever, if she made them for me, I'd eat 'em.

Is it just me, or does it seem like Jenner's real dream job is to be a chef? Just sayin'.
8

Justin's Almond Butter