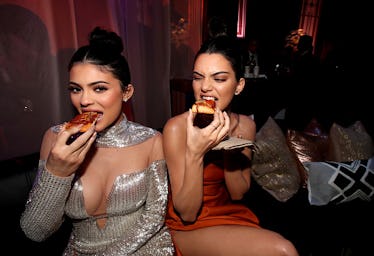 Kylie Jenner's Go-To Snacks Include All Your Favorite Junk Food & Seriously, Yum
Christopher Polk/NBC/Contributor
Kylie Jenner may be a frontrunner for the queen of sleek selfies, but her sweet tooth and penchant for junk food gives us way more insight into her character than any Instagram upload ever could. There's something really satisfying about finding out that a celebrity's eating habits are just like yours. And once I learned about Kylie Jenner's go-to snacks (for starters, she's obsessed with Twizzlers and Diet Coke), all of my dreams came true.
Jenner's favorite snacks seem all the more contradictory when you take into consideration her A-list lifestyle. She could be snacking on caviar and water distilled straight from the heavens, but she'd rather go on a quick run to get a fast food burger, which is why I'm certain she'd be every girl's best friend.
My ideal day with Kylie Jenner would involve us grabbing a meal together at In-N-Out while she finally explains to me what I'm doing wrong when I apply products from her lip kit (seriously, it's so easy a monkey could do it, and I still manage to mess up all the time). After all, while she may be be the boss of a massive cosmetics empire, she's still ya girl Kylie deep down, and you know she's ready to chow down on some sweets and gossip about literally anything and everything.
OK fine, I'm not sure about the last part, but I'm positive I could find something to bond with her over. Let's start with her favorite foods! Here are a few of her go-to snacks.