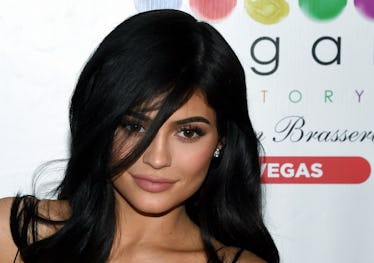 Kylie Jenner's Baby's Zodiac Chart Reveals How She'll Feel About The Spotlight
Ethan Miller/Getty Images Entertainment/Getty Images
Mum's been the word on Kylie Jenner's pregnancy, since news broke (erm, slipped?) that the youngest Kar-Jenner was preggo with boyfriend Travis Scott's baby back in September 2017. But now Kylie Jenner herself has finally confirmed that she and Scott have welcomed a brand new baby girl on Jenner's Instagram account. Cue the freak out. OK, so we've known Kylie is the third point of the Bermuda Triangle that is Kar-Jenner pregnancies (sister Khloé confirmed her pregnancy in December, and Kim confirmed her surrogate's pregnancy in September through a KUWTK promo), but the real question on everyone's mind remains: What will Kylie Jenner's baby's zodiac sign be? And how will the little one fit into life with the most famous family in America?
Kylie Jenner has been vocal about her beliefs in astrology. In her E! docu-series, Life of Kylie, she discussed how she always felt different from the rest of her family. She seems to know a thing or two about how the elements of the zodiac work, as she claimed in her aside interview that her mom, dad, and Kendall are all Scorpios, and she's a Leo. Scorpios are water signs and Leo, known as the star and leader of the zodiac, is a fire sign. In case you need me to break it down further, water puts out fire, people aka poor Kylie's spirits are constantly being dampened by her Scorpio family's natural desires to stomp out her fiery flames.
But I digress, here's everything we know about Kylie Jenner's baby's zodiac sign, and how the little one will deal with growing up in the public eye.
It's An Early February Baby! Meaning...
This baby is a Aquarius! Aquarians have so many great qualities, but will this child be able to adjust to life as part of one of celebrity royalty? Aquarius is an air sign, which means this baby is about to be more balanced than, say, a fire sign who would be seen as more "extreme," or a water sign, which are known for the fluidity of their emotions.
Aquarians are also known as excellent communicators, which could come in handy in a family that has so many members. It might be difficult to get your point across, or showcase who you are and what needs you have, so it'll come in handy to have this skill. Aquarians are also known to be huge givers; expect someone with this sun-sign to be heavily involved with a charity that's close to their heart. Kylie is already active in philanthropy, paving the way for her baby girl. In Oct. 2017, Kylie dedicated the sales from one of her lip kits for World Smile Day to children in need of cleft palate surgery. By the time the lip kit sold out, she raised and donated $500,000 to the cause. With an Aquarius sun sign, baby Jenner-Scott is sure to follow in her philanthropic footsteps.
Rising Sign: Leo
According to Kylie's YouTube video that she posted documenting the last nine months of her life, baby Jenner-Scott was born Feb. 1, 2018 at 4:43 p.m., which makes her a Leo rising. Rising signs are also known as your "first impression sign," which is the personality you show off to the world on the exterior. Oh boy. It looks like this baby girl is not only destined for the spotlight (which we all knew), but will actually come to enjoy it. Leos are known as the limelight lovers of the zodiac. They are known for their striking features, commanding presence in any situation, and extreme confidence that make them natural leaders.
This is an interesting rising sign for baby Jenner-Scott to have because her mother Kylie is a sun sign Leo. This could either mean they'll be more in tune with each other's quirks and needs, or, could be the cause of them butting heads later on in life for being so similar. According to Rosebud Baker, Elite Daily's resident astrologer, Leo risings are "self-confident, creative, independent, optimistic and kind-hearted." They also give "off the impression of everyone's playful pal with the confidence of someone who is not-to-be-f*cked with." Sounds like Kylie and Travis Scott are going to have their hands full with this feisty little tot.
A Leo rising and sun Aquarius individual reveals a great balance. The child will be able to show up and entertain when they're around people or in a large group (or, say, on television), but her Aquarius sun sign shows that she'll actually be super down to earth, and able to use her platform for a great cause, just like many of her aunts already do.
Either way, I'd say it's good that Kylie's baby will have a handful of strengths and weaknesses, since it's likely going to be a tough road for the tot who will grow up in the public eye — whether she likes it or not. Congrats to Kylie Jenner and Travis Scott on their new little bundle of joy.