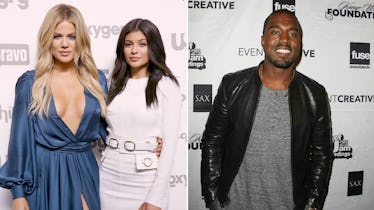 Kylie Jenner & Khloe Kardashian Reportedly Unfollowed Kanye West After His Tweet Storm
Robin Marchant & Tasos Katopodis/Getty Images Entertainment/Getty Images
OK. Hello. Good morning. Today, the population awakes to a world where Kanye West is back on Twitter and 24 hours have passed since he most recently supported Donald Trump. It's an odd landscape to get used to, so I understand if you need to take your time with this article. After his April 25 Twitter storm, it looks like Kylie Jenner and Khloé Kardashian unfollowed Kanye West, though it's not clear if they made the move before or after his rant. Elite Daily reached out to Jenner and Kardashian's teams to confirm when they unfollowed the rapper, but did not hear back by the time of publication.
If the new moms did decide to say "it's a nope from me" after Kanye's rampage, that would be totally understandable. According to Pop Crave, many other celebrities including Justin Bieber, The Weeknd, Rihanna, Ariana Grande, Harry Styles, Katy Perry, Nicki Minaj, and Kendrick Lamar jumped the Yeezy Twitter ship, too. Likely, it's because West doubled down on his support for the controversial president, going so far as to tweet a picture of his own personal MAGA hat, allegedly signed by Donald Trump himself.
The whole thing was very... um... aggressive? Shocking? Bizarre? Just, like, unnecessary?
West made his return to Twitter on April 14, 2018, after deleting his account just under a year ago. What started out as innocent quickly turned into one of his signature rants on April 25, which included comments about how much money his shoe line makes, turning the Grammys into the "Yammys," and calling his home "the sunken place." Originally, his wife Kim Kardashian jumped on Twitter to troll him about posting photos from their home, which apparently has remained off-limits until now.
After the mansion photos came West's first mention of Donald Trump, when he tweeted: "You don't have to agree with trump but the mob can't make me not love him."
He then added a few more politically charged thoughts.
You could practically hear Kim Kardashian raising her eyebrows through the screen.
Obviously, she knew these comments would stir up controversy, as West admitted she called him immediately after seeing his posts. West tweeted, "my wife just called me and she wanted me to make this clear to everyone. I don't agree with everything Trump does. I don't agree 100% with anyone but myself."
K.
Kardashian's phone call clearly did nothing to deter him from posting more on Trump, and in fact, looks like it could have made things worse. West followed up by sharing the MAGA hat photo, a screenshot of Trump retweeting him, and a photo of a poster of himself with the text, "Keep America Great. #Kanye2024."
While loads of celebrities (and regular ol' people, too) quietly clicked "unfollow" and went on their way, some people spoke to West directly. Grammy award-winner John Legend wrote a thoughtful series of subtweets seemingly directed at 'Ye.
He tweeted, "I love that great, brilliant artists have the power to imagine a better future. But artists can't be blind to the truth."
You can click through Legend's whole subtweet thread below.
Legend also added,
The defining trait of Trump's campaign and political profile was his embrace of white supremacy. He made it clear every time he spoke. Some serious cognitive dissonance to ignore that for the other x% you might find appealing. I guess I agree with >1% of anyone's thoughts though.
As of April 26, Kendall Jenner, Kim Kardashian, and Kris Jenner still follow 'Ye.
I'm personally standing by for whatever he has to stay next.
Check out the entire Gen Why series and other videos on Facebook and the Bustle app across Apple TV, Roku, and Amazon Fire TV.