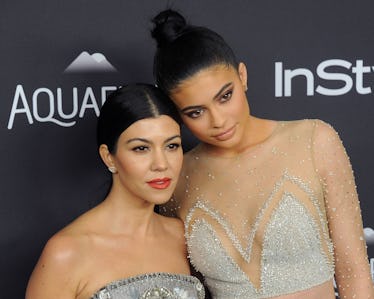 Kylie Called Out Kourtney For Not Giving Her A Vibrator & It's Such A Mood
Gregg DeGuire/WireImage/Getty Images
If you're in the mood to bust out laughing, you need to check out the video of Kylie Jenner calling out Kourtney Kardashian for not giving her a vibrator. The hilarious moment in question took place on Dec. 12 when Jenner posted a video of herself unboxing a package showcasing Kardashian's brand spankin' new holiday-edition collection of Poosh-approved products. The goodies included swag ranging from back massagers to monogrammed jewelry cases... and though the box was apparently supposed to include a vibrator, there were no sex toys in sight.
Much to my own personal delight, Jenner decided to voice her concerns about the missing vibrator in her Instagram Story. "Thank you so much Poosh and Kourtney for this box of dreams right now," she began saying as she showed off the gifts. "I cannot wait to go through this, what have we got in here?" At this point, she takes out a piece of paper that lists the contents of the gift box and examines it, appearing to look for something that's not there. Finally, she asks her sister, "Umm... Did you not send me a vibrator?" LOL.
As if things couldn't possibly get any more hilarious or dramatic, Jenner then decided to show her sister a lesson by saying she's going to send it back until Kardashian coughs up the vibrator.
"Um, Kourtney I think you forgot to put a few things in here, so, I'm going to send this back and we're going to try this again," she said.
So, what sort of vibrator might Kardashian send Jenner? The Peace Vibe Vibrator happens to be available for sale on Poosh — so maybe Jenner should keep an eye on her mailbox.