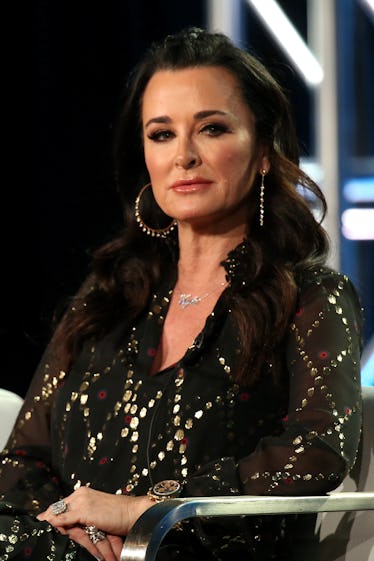 Kyle Richards Knows What You Think Of Her & She DGAF — EXCLUSIVE
Phillip Faraone/Getty Images Entertainment/Getty Images
I'm a 25-year-old woman, and every day I struggle to find my place in the world, but also on the ~interweb~. It's hard to see so many Instagram models and influencers with beautiful skin, perfect hair, and flawless features that feel impossible to achieve. The internet and social media have made it difficult for women, including myself, to feel confident in their skin. But what about young girls who are just starting to gain exposure to these kinds of things? Elite Daily attended Clearasil's #BelowTheSurface panel to speak with The Real Housewives Of Beverly Hills star Kyle Richards about what it's like for her to raise her daughters in a digital world. Kyle Richards' quotes on confidence will not only make you feel empowered AF, but they'll also make you brush off the haters and feel more comfortable with yourself.
The TV personality, actress, and mother of four hopes to instill many values in her children, but confidence, to her, is by far the most important one. "I just think that if you are confident, you can do anything in life," Richards tells Elite Daily. "I didn't go to college, I had a baby as a teenager — I'm not saying don't go to college, all of my kids are going to college — my point is, with confidence, you can do anything. You can achieve anything."
The star partnered with Clearasil as part of their #BelowTheSurface campaign to encourage discussions between parents and teens about things that are hard for them to speak about, like self-image, social media, and peer pressure. As a public figure, Kyle Richards is faced with criticism from online trolls daily, but she also knows her kids are in the spotlight, too. Because of this, Richards tries to lead by example and teach her daughters that life is more than Twitter comments and Instagram likes.
"The nice comments don't mean anything, and the mean comments don't mean anything," she explains. "I've had people tell me I'm fat, I'm whatever, I'm short, I'm this, making fun of me... and they'll put out things and I'll be like ugh, I do have that! Why do they have to tell me?! [laughs] But it happens to me, and I know it happens to [my kids.]"
Richards says her job has given her "way tougher skin," and she's happy her daughters are able to laugh at the negativity the same way she does. "I just think if you're confident, you can laugh things off. Like my daughters laughing about someone saying they're ugly, or one said she was hairy and looked like Chewbacca [laughs], and we literally still laugh about it. She just left the comment 'cause she thought it was funny!"
One way Richards shows her daughters she DGAF about online haters is by making light of the situation. "Someone wrote 'You need to lose like 50 pounds' or something like that the other day and I retweeted it... I was like, 'Oh, thanks for the tip!' and I made it a joke and laughed it off."
At the same time, Richards shares her fears for her daughters growing up on social media. "As a mom, social media tortures me," she says. "I look and I think there's so much focus on how many likes a photo has... my kids have a lot of followers because their mom is on a TV show, and then their friends won't have as many because they're in a different situation. They mean nothing, those numbers."
She continues, "I feel bad that kids put emphasis on that, and just projecting this image of everything being perfect, so I can't stand that we're doing a Facetune and this and that and people completely changing the shape of their face... Why can't we just be the best version of ourselves?"
Richards says she's the most nervous for her youngest daughter, Portia, who entered fourth grade in the fall. "It scares me for Portia because she is so young," Richards explains. "Literally, even my friends are using the Snapchat filter for every picture ... first I wasn't catching on, I was like, 'Why is everyone looking so much better than me?'" she laughs.
At the same time, Richards isn't afraid to fire back and stand up for her family. "So, I remember once I had a fight with a teacher at my daughter's school ... and I picked up my little one Alexia and she's crying," Richards shares. "I said, 'What's wrong?' and she said, 'They did a vote for class president, and I got zero votes, and they put it on the chalkboard,' and I went crazy and went to the school and said, 'How dare you do that? You put on the board who the winner is, do not put that my child got zero votes because you just robbed her of her confidence.'"
To Richards, confidence comes before anything, and she wants her kids to know that. She ended up pulling her daughter out of the school as a result of the incident. "I don't care about an A, I care about my daughter being confident ... It bothered me that much." Preach, Mama Richards, preach.