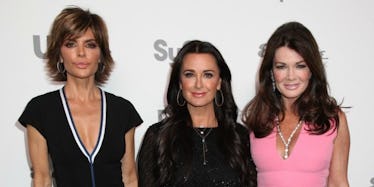 I'm A Dude Who Fell In Love With 'The Real Housewives of Beverly Hills'
REX/Shutterstock
Before the first episode of "The Real Housewives of Beverly Hills" season six aired last December, I was ready to jump out a window at the prospect of having to sit and watch this for an hour with my girlfriend.
As I sat on the couch, looking at my girlfriend holding the remote like Saruman holding his scepter in "The Lord of The Rings: The Two Towers," I said,
Oh, f*ck no. Anything but this.
We didn't have to watch sports, like I normally subject my girlfriend to whenever any of my teams is playing, but there had to be a better compromise than "The Real Housewives of Beverly Hills."
I often referred to the show as "trash," whereas my girl called it a "mindless escape."
Following the conclusion of Tuesday night's season six finale, I can honestly say I now refer to "RHOBH" as one of the most entertaining hours of my week. And I'm more than a little upset the season is over.
I know my girlfriend is reading this with a bigger grin on than the Cheshire Cat, but I cannot tell a lie. Here's why I didn't just enjoy this season of "The Real Housewives of Beverly Hills," I straight up fell in love with it.
The housewives made me cringe, laugh and love, often all at once.
From Lisa Vanderpump to Erika Jayne/Girardi, I'd argue you'd be hard-pressed to find a more charismatic, entertaining group of women than the Beverly Hills housewives who danced across my television screen every Tuesday for the past four and a half months.
I mean, sure, these women are more over the top and richer than any person I'll probably ever meet, but the fact they all own it in their own respective ways is somewhat refreshing in this often fake AF world.
As Yolanda Hadid says in the show's opening,
Fake friends believe in rumors, real friends believe in you.
These seven women have definitely been some of my realest fake friends over the last few months.
Will Lisa Rinna ever just shut the f*ck up and stop digging her own grave? Probably not, but hey, that's who she is. Those lips were made for talking, and you know what, that's exactly what they do.
Will Lisa Vanderpump ever own up to having a hand in the Munchausen talk concerning Yolanda and her illness? I genuinely think there's a better chance of Lisa Rinna and Kim Richards going on a girls trip to the Italian countryside -- or maybe somewhere with less wine.
Will Kyle Richards ever creep out from underneath the Vanderpump wing? Even if she gets burned again? I really don't know.
Will Eileen Davidson ever get a real apology from LVP?
And so it continues with the likes of Yolanda Hadid, Erika Jayne and Kathryn Edwards. I wouldn't have it any other way.
These women are who they are, and I love it.
From Tuscany to the Hamptons to Dubai, we've all gone on a journey this season.
Watching new characters, relationships and alliances rise and fall and LVP's husband, Ken, call Lisa Rinna a "wanker," has been an experience in and of itself.
When the show first started, I watched with my girlfriend every Tuesday night at 9 pm. Not only was it a regular thing for us to do together, it was an escape from the stress and bullsh*t of everyday life.
It still is.
But what began as something I did to spend time and unwind with my girl quickly evolved into "I'm watching this Tuesday night whether you're home or not" and "Oh, you're going to bed and you'll watch it on the DVR? Suit yourself, babe." I've been waiting since Sunday for this jam.
Just last weekend I was home with my dad, and while there were a plethora of sports options available on Saturday afternoon, I actually found myself scanning the television guide to see if there was an old episode of "RHOBH" I could catch on Bravo.
Potomac, yuck. I wouldn't dream of cheating on my women with some other housewives.
Yes, I just wrote that.
The point is, my love for this show has developed to a point I never could've fathomed. As Rinna and Vanderpump grew further and further apart, I grew closer and closer to these characters.
Hell, even the husbands are entertaining. I'm looking at you, Ken, Harry, Vincent, Donnie, Mauricio, David and Tom.
When I first started watching "The Real Housewives of Beverly Hills," my girlfriend had to explain who everyone was, why they were uber rich and what the hell was going on in general. By the time the women made their way through Dubai toward the end of season six and we all sat through that awkward dinner on the beach, I was the one who was rationalizing, theorizing and explaining.
This past Tuesday at 10 pm, my girlfriend was sound asleep on my chest as I watched the stunning conclusion to what has been a whirlwind season.
Is this show a cheesy escape from reality? Absolutely. However, there is far more to it than meets the eye. Whenever season seven rolls around -- if you know, holler at your boy -- you can bet I'll be watching. I may be wrong, but I have a hunch I'm not the only dude who will.