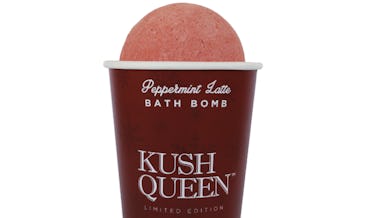 These Peppermint Latte Bath Bombs Are Infused With CBD For A Relaxing Holiday Season
Like most sensible and joyful people, I thoroughly enjoy the holiday season. And even though I'm a die-hard Christmas enthusiast, the most wonderful time of the year still tends to stress me out from time to time. Yep, it's totally true — between the pressure of knocking everything off your shopping list and making the best possible plans, the to-do list sometimes feels seemingly endless. If you're seeking out some "me time," though, Kush Queen's CBD-infused Peppermint Latte Bath Bombs are coming in clutch to combat the everyday stressors of the holiday season. They honestly sound like the most relaxing bubble baths known to mankind.
If you haven't already heard of Kush Queen, listen up, because it's about to change your entire freakin' life. They're an online skincare company that sells CBD-infused lotions, soaps, and skincare products, and just in time for the holiday season, they're selling CBD-infused Peppermint Latte Bath Bombs. (Cannabidiol (CBD) oil is a marijuana extract that doesn't have the intoxicating effects, per WebMD.) According to Kush Queen, each one single-handedly manages to ease your shattered nerves, while soothing dry skin, boosting your immune system, and most importantly, bringing endless amounts of holiday cheer with the warm, tantalizing scent of a peppermint latte. Each bath bomb comes with a full 25 milligrams of healing CBD, and only costs a mere $12.99. IDK about you, but a little R&R is well-worth all the money in the world, in my book.
The best part of these glorious bath bombs, however, is that each and every ingredient used is totally natural. That's right — they hand-make each bath bomb with a combination of 100 percent organic essential oils, lab tested C02 cannabis oil, and CBD isolate, according to Kush Queen. They don't use any nasty artificial dyes or preservatives, and they're guaranteed to make you feel absolutely amazing. Ho, ho, ho, happiness.
If you've never used a bath bomb, you have no idea about all the joy you've been missing out on for all these years. But, lucky for you, the website gives pretty simple, straight-forward instructions on how to use theirs. According to KushQueen.shop, all you have to do is fill up your bath tub with hot water, and then, you'll drop in your CBD-infused Peppermint Latte bath bomb. Once the bath bomb is totally dissolved, for best results, take 30 minutes to soak it all in. That way, you'll be able to feel the full effects of the CBD and essential oils. Ahhh.
If you're looking to sip something while you soak, on the other hand, ROOT Blends' CBD smoothie is the perfect calming accompaniment to go along with your Peppermint Latte Bath Bomb. It'll give you so much relaxing energy, and each drink is full of organic raw fruits and veggies. Sounds like everything you'll need to be happy and healthy for the holidays.
Christmastime can be overwhelming, and sometimes, the only way to relax is with a bubble bath. Kush Queen's Peppermint Latte Bath Bombs are festive, calming, and undeniably delectable, and they're sure to keep you level-headed. So, have yourself a merry little bath time, and bring on all the bubbles.