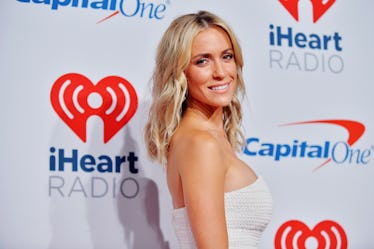 Kristin Cavallari Revealed How She Feels About Not Being On 'The Hills: New Beginnings'
Sam Wasson/Getty Images Entertainment/Getty Images
The Hills revival is so close we can almost taste it, you guys! I mean, it's pretty much the moment we've all been waiting for since it was first announced during the 2018 Video Music Awards back in August that the popular MTV reality show will return sometime next year. Of course, former stars and frenemies Lauren Conrad and Kristin Cavallari will be MIA since they've both moved on to other projects. But apparently there's no drama, drama, dramaaaa behind their respective choices to sign on, because Kristin Cavallari's comments about The Hills: New Beginnings are actually so supportive.
If you've been watching Kristin on her new show Very Cavallari, then you know she's now a major business owner and mom of three living in Nashville with her NFL-star husband, Jay Cutler, who is, without a doubt, the breakout star of the series and totally worth tuning in for. So yeah, the girl who once danced on the bar in Cabo while locking lips with a random guy in order to make her on-again, off-again boyfriend Stephen Colletti jealous is all grown up now, and she's totally here for The Hills reboot, even though she's currently not involved.
"I'm just as excited as everybody else to see it," she told E! News at the 2018 iHeartRadio Music Festival on Sept. 23. "I've been talking to Heidi and Audrina and so, I of course would love to be part of it. Heidi and I have joked about swapping an episode for an episode. I'll have to bring it up with E! and MTV. But yeah, I'm really excited for them. I can't wait to see it."
Heidi, of course, is Heidi Montag. And Audrina is Audrina Patridge, both of whom starred with Kristin on the original version of The Hills, and both of whom will appear in the revival. Also returning are: Brody Jenner, Jason Wahler, Justin Bobby Brescia, and Heidi's husband Spencer Pratt — because what kind of show would it be without THAT guy?
OMG, I just got really excited for this thing! But do we think it can possibly live up to the legit amazingness of its predecessor?
"I don't know," Kristin told E!. "We will see. I don't know what to expect. Everyone is a mom now so I don't know if it's everyone having play dates or what it's going to be about but I will be checking it out."
Same.
Meanwhile, Kristin is busy prepping for Very Cavallari Season 2, and yes, it sounds like the producers have been listening to the fans and there will be more Jay!
"Everybody loves Jay, so we need more Jay on the show!" Kristin told E!. "He is on board and I think because he had such a positive reaction, he is having fun with it. So he's excited too to start filming. The first season, it was about my life but it was also really about my staff, so season two, I think is just gonna be more about what's going on in my life. So yeah, it'll be fun."
Can't. Wait. And until then, at least we'll always have Cabo.