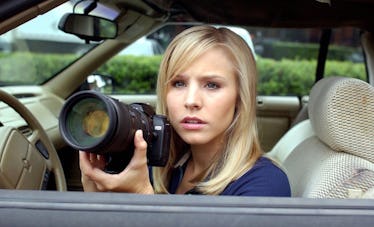 Kristen Bell & The 'Veronica Mars' Cast Shared First Looks At The Revival Series
CW
Mars is officially back in Neptune, folks! A couple months ago, Hulu announced that it will be streaming a revived season of the cult-beloved mid-2000s teen detective series Veronica Mars, and now we are finally getting our first glimpses of the cast back together on set. Kristen Bell's Veronica Mars revival Instagrams will get you so pumped for your return trip to Neptune.
Veronica Mars first premiered on UPN in 2004, and it quickly gained a following during the early-2000s boom of teen dramas. The series followed its eponymous character, Veronica Mars, the daughter of a private investigator who picked up a bunch of sleuthing tricks of her own. Mars solved a number of dangerous mysteries in her high school and later college, but sadly, the series only lasted for three seasons. The show's fanbase — dubbed "marshmallows" after a memorable quote from the pilot episode — has remained devoted and vocal in the decade since it went of the air... so much so that a fan-funded Veronica Mars movie actually made it to theaters in 2014.
Although getting that movie was nice, what Veronica Mars fans are most looking forward to is a proper season of television to continue Veronica's story. And Kristen Bell is pretty amped to be back in character too, as fans can tell from her latest Instagram posts. On Monday, Bell shared a selfie video on the Veronica Mars Instagram account in which she marveled at getting the opportunity to revisit her iconic character:
The show's Twitter account also shared a brief video of Kristen Bell turning around at her Mars Investigations desk. The clip also features a placard that indicates Veronica Mars will be her own official P.I. in the new season.
And Kristen Bell was not the only one sharing photos that will excite fans for the revival. Showrunner Rob Thomas posted a photo of the Veronica Mars cast during the table read for the first episode of the Hulu revival.
The photo includes returning fan favorites, like Percy Daggs III as Veronica's bestie Wallace Fennell and Jason Dohring as Veronica's on-again-off-again boyfriend Logan Echolls. And Rob Thomas also assured fans that even if their favorite character is not in that photo, they may still appear later in the revived series. For instance, Ryan Hansen has already been confirmed to reprise his role as the eternally douchey Dick Casablancas and Francis Capra is also confirmed to return as the biker Weevil Navarro. Max Greenfield will be back as well in the role of former sheriff's deputy Leo D'Amato.
Now that the Veronica Mars revival seems to have officially begun filming, fans can expect even more fun posts from the cast moving forward. The rebooted Hulu series will consist of eight episodes, and there is no news yet about whether the cast and creative team are expecting to extend the revival beyond one season of make this the official farewell. The Veronica Mars revival does not have a premiere date yet, but it will debut on Hulu at some point in 2019.