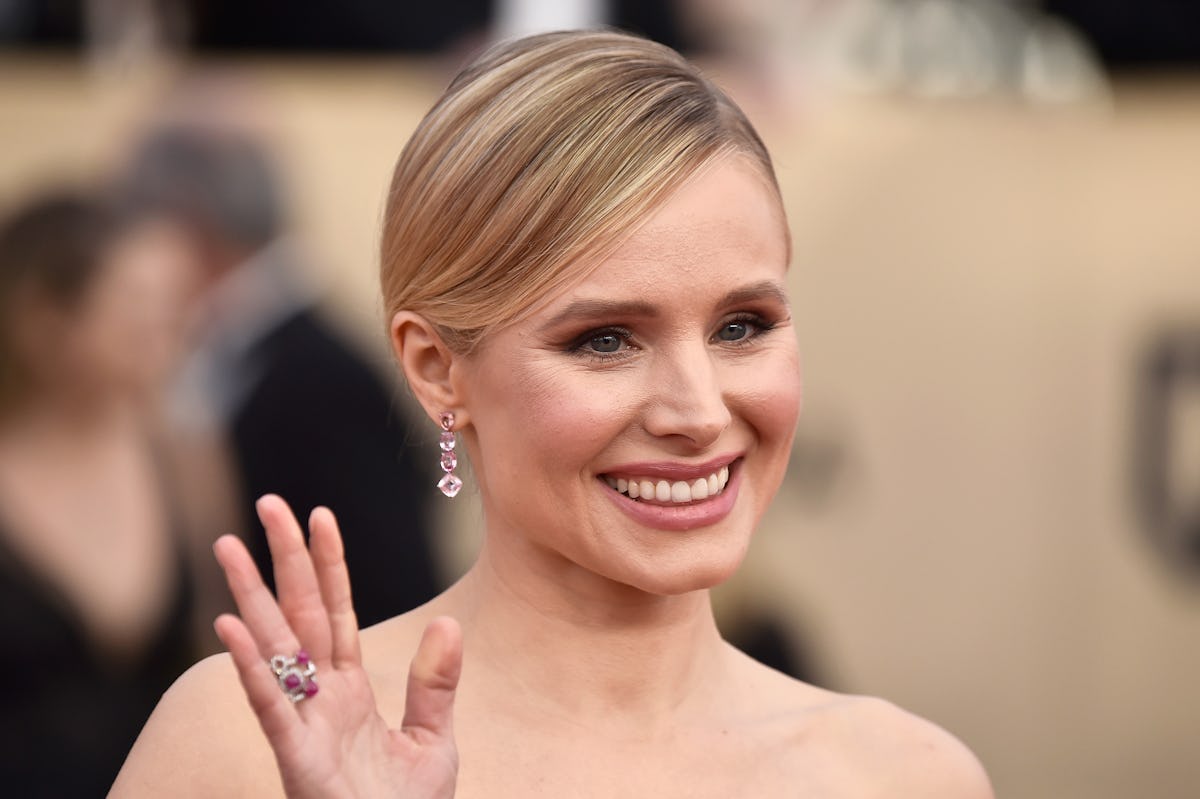 This Joke From Kristen Bell's SAG Awards Opening Monologue Had Twitter LOLing
Frazer Harrison/Getty Images Entertainment/Getty Images
Leave it to the woman behind Anna from Frozen to put on a good show. Kristen Bell stepped into the role of host for the 24th Annual Screen Actors Guild Awards on Sunday Jan. 21 and we think she's off to a pretty great start. The SAG Awards historically do not have a master of ceremonies, so if you can believe it, Kristen is the first ever host of this awards show. The Good Place star has plenty of performing tricks up her seasoned sleeve, so how was Kristen Bell's SAG Awards opening monologue? Maybe she should host every year from now on because it was forkin' entertaining.
Before Kristen kicked things off, the audience was blessed with the classic "...and I'm an actor" monologues from a group of actresses (yes — just actresses) including Allison Janney, Tracee Ellis Ross, Millie Bobby Brown. After Millie delivered an uplifting message to young girls to "believe in your dreams and follow your hearts," it was our host Kristen Bell's turn:
When I was young I used to record Disney movies on my cassette player. I would sing every lyric in the Disney canon knowing and believing that one day I would be a part of that magic. I am Kristen Bell and I... am a narcissist. Sorry, I'm an actor. And tonight — I'm also your host!
Perfection. Of course, Twitter ate her perfect mix of self-deprecating and adorable right up. Ugh, could she be any more lovable?
In addition to nailing a great joke right out of the gate, Kristen called Veep star Tony Hale a cyberbully (She's kidding!) and labeled The Handmaid's Tale a documentary (yikes, too real). She also made time to shout out the aspiring actors "who have just gone on their 20th fruitless commercial audition" and reminded them to stick around. Oh, and she assures us that Frozen 2 is coming to theaters in 2019. Phew.
Kristen spoke to Jimmy Kimmel this past week regarding the SAG Awards' decision to include mostly women presenters at this year's ceremonies and why it made sense for this particular award show. She said,
They say it's the actors' party in the actors' house and since actors are responsible for it, they feel that some actors have felt unrecognized or marginalized and they wanted to bring those stories to light and give them a forefront. So, they said, 'OK, women, you're having a larger voice now. You're saying a lot of things. Let's give you the stage.
Bell also remarked about her intentions for the stint, saying, "I feel confident in that I can bring joy, which I feel like we need a little bit of right now and forward momentum."
When Bell was announced as taking on the hosting job, SAG Awards executive producer Kathy Connell explained why the show was going in a new direction:
This has been a year in which assumptions have been challenged, stereotypes have been shattered and precedents have been broken. We decided to capture the cultural mood by casting aside one of our own traditions, and we're thrilled to have such a talented performer like Bell help us do so.
Unfortunately, Kristen has never been nominated for a SAG Award, despite her outstanding work on shows like Veronica Mars and The Good Place. She did receive a People's Choice Award last year and she's been nominated for two Television Critic's Awards throughout her career. But awards don't a career make. The talented Kristen is currently keeping very busy. Frozen 2 is currently in production (yes, it's OK to squeal) and The Good Place was renewed for Season 3 in November. OK, you can keep squealing.
"I'm going to be as awkward and as weird as possible, and hopefully that will make someone smile," Kristen told ABC about how she planned to approach the SAGs. Keep being you, Kristen! We're definitely smiling already.