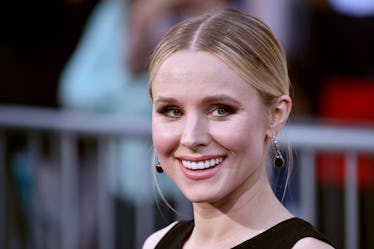 Kristen Bell's Net Worth Is Higher Than Her Husband Dax Shepard's & It's Everything
Frazer Harrison/Getty Images Entertainment/Getty Images
Alongside husband and fellow funny man, Dax Shepard, Kristen Bell makes up one half of Hollywood's beloved comedy power couple. And while it's our duty to protect them at all costs from the industry's divorce epidemic (still mourning the Chris Pratt/Anna Faris split a year out), trust when I say Bell is doing just fine all on her own. Like making millions and millions of dollars more than her hubby fine. What can I say, girls just wanna have fun(ds). Given Bell's impressive resumé includes acting, singing, dancing, producing, and voiceover credits (ever heard of a little thing called Frozen?), it's hardly a surprise she's making serious bank. According to Celebrity Net Worth, Kristen Bell's net worth is reportedly $20 million. But it hasn't come without a little, or a lot, of hustle.
Bell's career began in 2001 when she was cast in the Broadway production of The Adventures of Tom Sawyer. Just credits shy of graduation, Kristen left behind NYU's Tisch School of the Arts for brighter stage lights. The Michigan-born triple threat continued to climb the industry ladder, nabbing small roles in a series of productions, films, and TV shows before scoring the lead in Veronica Mars. Earning critical acclaim for her performance on the drama, Bell's notoriety grew from there. She's starred in a number of flicks since, including Forgetting Sarah Marshall, When In Rome (alongside Shepard), Zootopia, Bad Moms, and Frozen.
Amidst her busy work schedule, Bell still made time for a relationship, finding love at second sight with Shepard. After meeting at a mutual friend's birthday in 2007, both admitted to impartial first impressions. Bell called their introduction "not electric" and Shepard later told Good Housekeeping, "I was suspicious of [Bell and her friends'] unbridled happiness ... I thought, 'Something stinks here; they're in a cult.'" It was their second, accidental run-in two weeks later that set off sparks. Speaking to Flare magazine in 2013, Bell said, "He was with someone I knew, and I was with my roommate, [Veronica Mars co-star] Ryan Hansen — and we ran into each other. It was on from that point." The couple has since welcomed daughters Lincoln, 5, and Delta, 3.
Shepard's built an impressive career himself with nearly 25 film credits and an impressive television portfolio, including his gig with Punk'd and a five-year starring role on NBC drama Parenthood. However, his net worth is still lower than Bell's, according to Celebrity Net Worth. The number is estimated at $12 million. While that's $12 million more than I have, it's also $8 million less than Bell. I can't say it's not gratifying in a world where women are still consistently making less than men to see a wife out-earning her husband. You know, girl power. And I'm pretty sure Dax feels the same way.
A self-proclaimed feminist, Shepard opened up to E! about raising empowered daughters. "You love them; you try to give them opportunities to build self-esteem and believe in themselves. You can't tell someone they're great. You have to give them opportunities to prove to themselves they're great," he told the outlet. "I think the more empowered women are, the better off we all are." Talk about dad goals.
In fact, as a couple, Bell and Shepard have long been outspoken advocates for equality. Following their 2009 engagement, the progressive pair's trip to the altar came to a halt before it began. They vowed to hold off on their own nuptials until same-sex marriage was legalized. When the Defense of Marriage Act was rescinded and Prop 8 struck down, Bell took her own turn proposing. They married in 2013 at a Beverly Hills courthouse, according to CNN.
If there's one thing we can all learn from Dax Shepard and Kristen Bell's enviable relationship, it's that equal partnership means equal support, not equal incomes. I'm so here for the actress, singer, wife, mom, feminist, and female breadwinner extraordinaire.