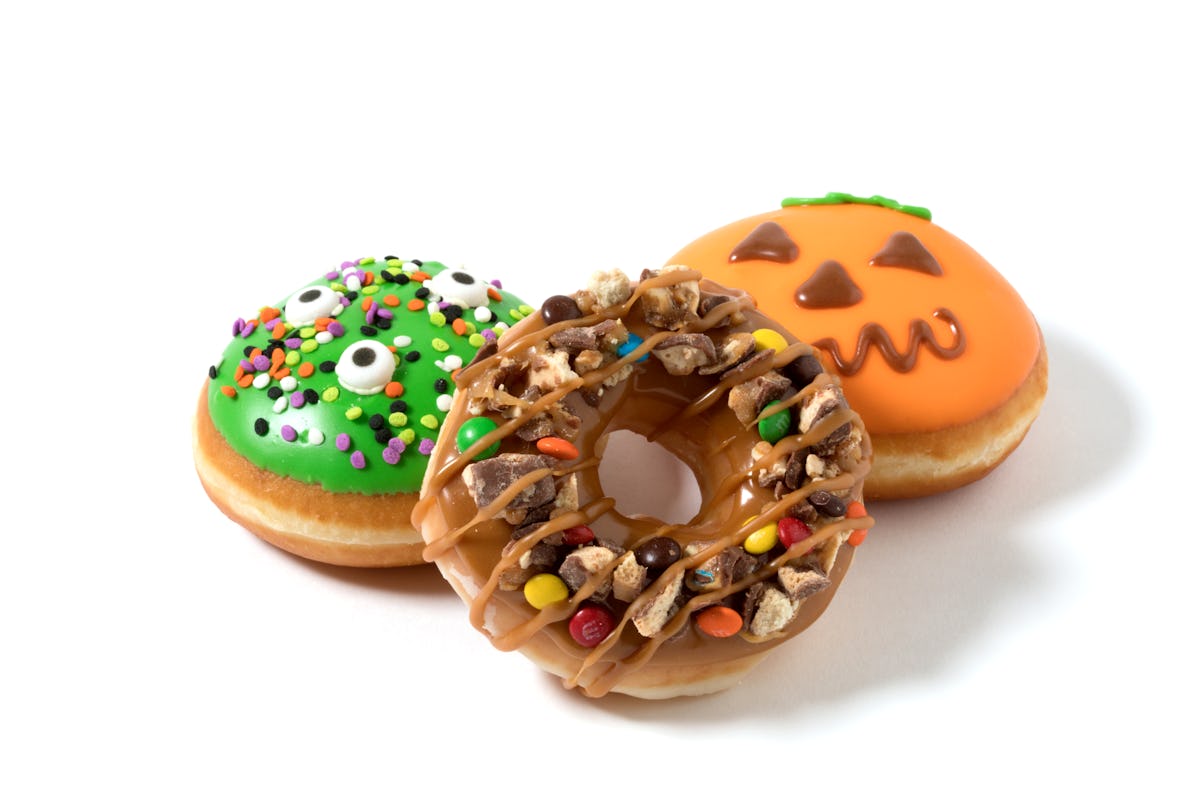 This New Krispy Kreme Halloween Doughnut Features Your Favorite Chocolate Candies
Courtesy of Krispy Kreme
I'm one of those people who's been waiting for fall since, like... July. Sweaters, boots, and most importantly, festive fall food is 100 percent my jam, and it looks like Krispy Kreme feels the same exact way. The esteemed doughnut chain is bringing back two seasonal favorites and introducing two new ones to its menu on Monday, Oct. 8. Let me tell you — they're hauntingly delicious. So, if you haven't already tried Krispy Kreme's new Halloween doughnuts, you'd better get on that. They're bringing spooky season to a whole new level, fam.
To be completely honest, there's nothing better than a Halloween doughnut, and Krispy Kreme's selection goes beyond the regular cider or pumpkin spice flavors. According to a press release, the chain has introduced the Trick-or-Treat Doughnut as well as the Monster Batter Doughnut, and it's bringing back the Jack-O-Lantern Doughnut and the Chocolate Iced Doughnut with Halloween Sprinkles. The doughnuts are all available as of Monday, Oct. 8, and they will stick around through Halloween on Oct. 31, at participating Krispy Kreme shops nationwide. YUM.
To start, the Trick-or-Treat Doughnut, according to a press release, combines the joys of candy and doughnuts. It boasts an Original Glazed Doughnut base, which is generously drizzled in salted caramel. It's then sprinkled with bits of classic Halloween candy, and if that doesn't sound magical to you, then feel free to trick-or-treat by yourself this year.
The Monster Batter Doughnut, on the other hand, is equally tasty. Not only does it have a classic cake batter filling, but it's also dipped in haunting green icing, and sprinkled with monster eyes, as well as festive "confetti." Spooooky. A few returning seasonal veterans include the Jack-O-Lantern Doughnut — which, you guessed it, looks like a carved pumpkin — and the Chocolate Iced Doughnut with Halloween Sprinkles. Again, pretty straightforward, but delicious beyond belief.
Alison Holder, the Vice President of U.S. Marketing for Krispy Kreme Doughnuts, said in a press release that the new Halloween doughnuts are the perfect fall treat.
In the press release, Holder said:
Our newest collection brings the fun-filled spirit and delicious flavors of Halloween, creating an unexpected treat option for celebrations all month long. No matter what your Halloween plans or cravings are, Krispy Kreme has the perfect spooky treat.
If you're looking to save a little cash, on the other hand, the renowned doughnut spot is also hosting a nationwide costume party on Oct. 31. That's right — according to the release, if you wear your costume to Krispy Kreme on Halloween, you'll get any free doughnut of choice at participating shops. And yes, that includes the seasonal flavors. Get ready for the Halloween sugar high of a lifetime, peeps.
Once you've tried each and every one of Krispy Kreme's Halloween doughnuts, prepare yourself for the return of the Spider Donut at Dunkin' Donuts. The chocolatey arachnid is available at participating locations through Oct. 31, so get excited. Honestly, it's already haunting my dreams.
There's nothing better than a Halloween doughnut, and Krispy Kreme has gone all out. This year's Halloween offerings are scary delicious, so make sure you try them all before it's too late.