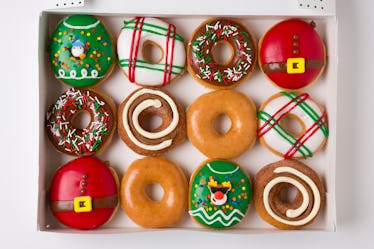 Krispy Kreme's Holiday Doughnuts Are Here, So Prepare For An Iced Christmas
Courtesy of Krispy Kreme
Now that Thanksgiving has come and gone, Krispy Kreme is gifting customers dreaming of an iced Christmas a lineup of festive goodies that even Santa Claus would be unable to resist. My body is so ready, because Krispy Kreme's 2018 Holiday Doughnuts are back, y'all, which means that both favorites like Santa Belly Doughnuts and Holiday Plaid Doughnuts and brand new creations are here to make your mornings and holiday parties merry and bright through Christmas Eve. Just remember to snap a picture before you dig in, because these holiday bites are ridiculously photogenic.
According to a press release shared by the doughnut purveyor, it's officially game time for the merriest time of the year and all the festive doughy treats that'll be tantalizing your taste buds this season. Get ready for a Christmas sprinkled with plenty of icing and glaze, because Krispy Kreme is rolling out the usual festive favorites as well as a few new additions this year that are almost too pretty to eat — almost being the key word here.
From now through Dec. 24, hungry customers can stop by their local Krispy Kreme for a dozen Santa Belly Doughnuts and Holiday Plaid Doughnuts, according to a press release. Krispy Kreme is also introducing Ugly Sweater Doughnuts for the very first time this year, and they're basically a cute and whimsical take on the OG iced creation. Per the press release, these bad boys are covered in layers of green icing, covered with confetti sprinkles, and then "decorated with over-the-top reindeer and penguin candy pieces." The treat basically looks just like the ugly Christmas sweater you'll be sporting to your next holiday party, but in doughnut form.
In case you need a refresher, the other options are also pretty incredible and would make the perfect addition to your doughnut box. My personal favorite is the too-cute Santa Belly Doughnut, which is decorated with chocolate icing and candy that looks like a wee belt buckle. The best part, however, is that it's filled with a hot cocoa creme filling, which makes it both photogenic and absolutely delicious. Something tells me the man in the red suit would definitely approve.
"This year's deliciously festive collection is our way of bringing a little tasty fun and whimsy to our consumers during the hectic holiday season," Alison Holder, Vice President of U.S. Retail Marketing for Krispy Kreme Doughnuts, said in a statement. "Krispy Kreme loves being a part of our fans holiday moments, whether they're taking a quick break for themselves while shopping, spreading cheer at office celebrations, or leaving Santa a tasty treat. A Krispy Kreme holiday dozen will not disappoint."
While the Toffee Mocha and Melted Snowman Doughnuts aren't returning this year, you can also get your hands on the chain's new Thanksgiving-inspired Cinnamon Swirl Doughnuts, which is basically the stuff that cinnamon dreams are made of. Krispy Kreme is serving these bad boys from now through January 2019, which means that you can treat yourself to the retailer's OG glazed doughnut "hand-tossed in cinnamon sugar and topped with decadent cream cheese icing and a gooey cinnamon swirl" through the new year.
That's some very merry news, and if you're still battling the Thanksgiving weekend withdrawals, I'd suggest heading to your closest Krispy Kreme ASAP and taking the edge off with this holiday sweetness. Happy munching!