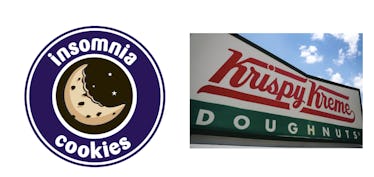 Krispy Kreme Might Soon Sell Insomnia Cookies, & OMFG
Insomnia Cookies/Joe Raedle/Getty Images News/Getty Images
If heaven truly is a place on earth, then let's be real: it's probably nestled inside a warm, joyful Krispy Kreme restaurant. It's hard not to be shamelessly ecstatic when pretty much everyone is running on a limitless sugar high while eating one of god's greatest gifts: Krispy Kreme doughnuts. In recent news, though, the doughnut company made a major acquisition, which might mean that Krispy Kreme will soon start selling Insomnia cookies. And honestly, I'm hoping for the best.
On July 20, 2018, Krispy Kreme and Insomnia Cookies announced an agreement stating that Krispy Kreme would acquire a giant stake in Insomnia Cookies, according to a press release. The terms of the transaction weren't entirely disclosed, and Insomnia Cookies will continue operating as its own, standalone company when the deal officially closes in the fourth quarter 2018, according to a press release from both brands. But that doesn't necessarily mean there won't be any doughnuts sold at Insomnia restaurants, or that there won't be any warm, delicious late-night cookies offered at the Krispy Kreme counter — at least, not yet. Elite Daily reached out to both teams for comment about this dire matter, but didn't hear back in time of publication.
So, I mean, really — who knows what the future holds?
The CEO of Krispy Kreme Doughnuts, Mike Tattersfield, said in a press release that the doughnut company is beyond happy to acquire such an innovative and high-quality business as Insomnia (and seriously, he's not wrong).
In the release, Tattersfield said:
At Krispy Kreme, we have an 81-year heritage of creating the most awesome doughnut experience imaginable, and today we are delighted to add Insomnia Cookies, a rapidly growing business with an innovative delivery experience and exceptional product that is beloved by consumers. While our companies will continue to operate independently, these two great brands can learn a great deal from each other as we each continue to expand and grow.
The founder of Insomnia Cookies, Seth Berkowitz, said in a press release that his ambitions and drive to achieve customer satisfaction totally align with that of Tattersfield, as he leads Krispy Kreme.
In the release, Berkowitz said:
Mike and I share the same ambition for our brands: To be the best at what we do and delight consumers with the highest quality sweet treat experiences. My team and I are confident that this shared vision makes Krispy Kreme the ideal partner to support Insomnia through our next phase of growth. We are thrilled to be joining the Krispy Kreme family.
Maybe I'm just splitting hairs here, but between his description of a "shared vision"and having an "ideal partner" in the next phase of Insomnia's growth, it seems like maybe — just maybe — Krispy Kreme will sell cookies. Or maybe Insomnia will sell doughnuts. Either way, this is going to be a super sweet partnership (literally) and I am way too excited to witness the magic both of them will bring to this world. I know for a fact that it's going to involve a lot of sugar, and even more warm, gooey love. My body is officially ready for this partnership, y'all.