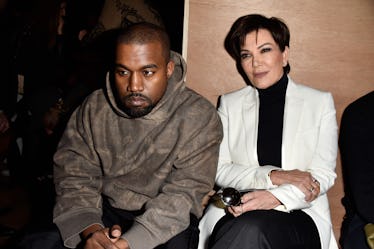 Kris Jenner Got Real About Kanye West's Social Media Antics & I'm Still Confused
Pascal Le Segretain/Getty Images Entertainment/Getty Images
Another day, another piece of Kardashian drama. Truly, the royal (Kardashian) family has been on a roll these last few months when it comes to some pretty intense situations. But most recently, we've been focusing on someone who's not exactly a Kardashian, but married into the family. Yep, I'm clearly talking about Kanye West here. Ever since his return to Twitter, where he expressed support for Donald Trump and talked about "getting rid of everything," fans have been slightly worried. What's going on, fam? Well, Kris Jenner sat down with Ellen DeGeneres to chat about the entire ordeal, but I have to say, I'm not so sure she cleared anything up. Actually, Kris Jenner's response to Kanye West's tweets is almost more confusing than, well, Kanye West's actual tweets.
Here's what happened: Kris Jenner went on The Ellen DeGeneres Show on Friday, May 4, to discuss some of the family drama that's been going on. To address the elephant in the room, DeGeneres came right out and said what everyone was thinking.
"We're going to get this out of the way, because I think people are tuning in and they're thinking that we're going to talk about Kanye the whole time — we're not," DeGeneres said. "But, we're going to get it out of the way."
Jenner said that she's relieved that they won't be talking about Kanye for the entire show, but, hello, I think we all deserve some answers here, don't ya think?
DeGeneres continued, saying, "But of course there's so much going on right now, I have to ask you. And I'll ask you two questions, because you're not the spokesperson for the family and this is not really for you to talk about ... Two questions. What's going on, and is he OK?," DeGeneres asked, laughing.
YES, ELLEN! Thank you for asking those two very important questions that we'd all like some answers to!
But the problem is that those terrific questions were met with a very, erm, questionable response.
Here's what Jenner had to say:
Kanye has a lot of love for all of you, all of his fans, and everybody who's been there to support him forever. And, I know that he will explain himself in his own way. I think that anything he does – and I just think this is important to say is – he always does things with really good intentions. So, I'm going to let him explain himself when the time is ready.
I'm sorry, but I'm just not following.
West's Twitter rants and recent interviews have been stirring up quite a bit of controversy — like his unpopular views on slavery and his heated, screenshotted conversations with John Legend about Donald Trump — and have been making fans question West's mental health. But it looks like Jenner is sort of sweeping all of the ~drama~ under the table, and will leave it up to Kanye to explain himself.
Mhm. Mhm. OK.
As for Jenner, she said she finds it hard to "keep up" with everything. "I just keep rolling on, trying to keep up," she explained.
On April 24, sources told People that she and Kanye have gotten into multiple arguments and that everyone is "really worried" about Kanye's wellness. Sources said,
He's had huge blow-ups with Kris. She sees how erratic he's acting and is most concerned about her daughter's brand. She's also trying to be a good mother-in-law, so he's having explosive issues with her too ... Everyone is really, really worried.
But despite these reports, another source told Entertainment Tonight those rumors were simply untrue, and that Kris Jenner and Kanye West get along just fine. "Kris and Kanye have an amazing relationship," the source said. "They vibe so well together and inspire one another."
Well, who are we to get in the way of Kris and Kanye vibing? In the meantime, we'll all just be here, waiting for a more concrete response from Yeezy.