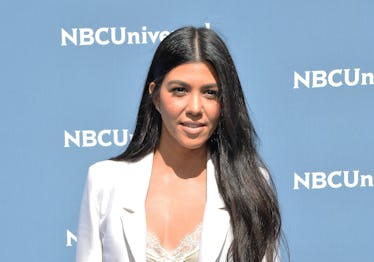 Kourtney Kardashian Has The Best Kids & Their Mother's Day Gift To Her Proves It
Slaven Vlasic/Getty Images Entertainment/Getty Images
Here's a fun fact: I'm a huge sucker for love and displays of affection. And I have an even bigger weak spot when kids go all out of their way to plan something special, especially in honor of their parents. Like, for example, on May 13 when Kourtney Kardashian's kids decided to ring in Mother's Day with a special treat for the reality TV star. Kourtney Kardashian's Mother's Day gift from her kids is so impressive and heartwarming that it has me literally taking notes on how to woo my very own mom for future celebrations — and yes, I'm absolutely serious.
Kardashian posted a series of videos to her Instagram page that captured her Mother's Day surprise from her kids, and it's almost too amazing for words. In the first video, she opens the door to her bedroom, revealing a long trail of white and red rose petals that lead downstairs into the kitchen area. The stairs are also decorated with tons of stuffed animals, including a Minnie Mouse and a couple of adorable teddy bears (which we can assume the kids borrowed from their own bedrooms to tie their surprise all together.) When Kardashian reached the bottom of the stairs, she was shocked to find her kids waiting for her, along with a yummy breakfast, two bouquets of roses and three paper heart cutouts that each of her children — Mason, Penelope, and Reign — signed with their names.
"Thank you, guys. I'm the luckiest mommy!" she exclaimed, before the video cuts.
I'm not crying — you are.
But seriously, you guys, I'm thoroughly impressed with her kids. I don't know about you, but I definitely didn't have anything on these levels of creativity growing up. IDK, she might have some future interior designers or chefs on her hands...
I'm betting the surprise is also warming to Kourt because it totally catered to her clean eating habits (aside from the bagel, of course). The reality star follows a healthy diet — typically avoiding red meat, dairy, gluten and similar substances, according to The Sun — and recently shared her go-to breakfast on her app. (Which looks awfully similar to the Mother's Day meal her kids prepared for her, if I might add).
On April 30, she revealed on Twitter that her preferred morning meal is a green smoothie bowl, which includes strawberries, kiwis, bananas and more.
Excuse me for a sec. Suddenly, my mouth is watering uncontrollably.
OK, but all jokes aside, the mother-of-three and her children have been following a gluten- and dairy-free way of living for the past couple of years. In 2016, she explained on her app that the transition came after after their family doctor said they all showed sensitivities to corn, gluten, and dairy. She wrote:
I have noticed a great positive change in behavior with my children when we stick to a gluten- and dairy-free diet. I don't think everyone needs to eat this way but we had muscle testing done, which showed we all have sensitivities to corn, gluten and dairy.
However, she did admit that she still lets her kids indulge in goodies every now and then, which I'm sure they can appreciate when vacations and other adventures roll around. She continued,
Of course, we pick our battles and I do let the kids have popcorn at the movies and a churro at Disneyland, etc. But for birthday parties, which can sometimes be every weekend, I bring extra gluten- and dairy-free cupcakes for the kids and they are happy with that.
More than anything, I'm so touched to see that Kardashian's kids know her so well and went the extra mile to give her something they knew she'd enjoy. However, now I'm wondering what they'll whip up for dinner (and what time I should be there).