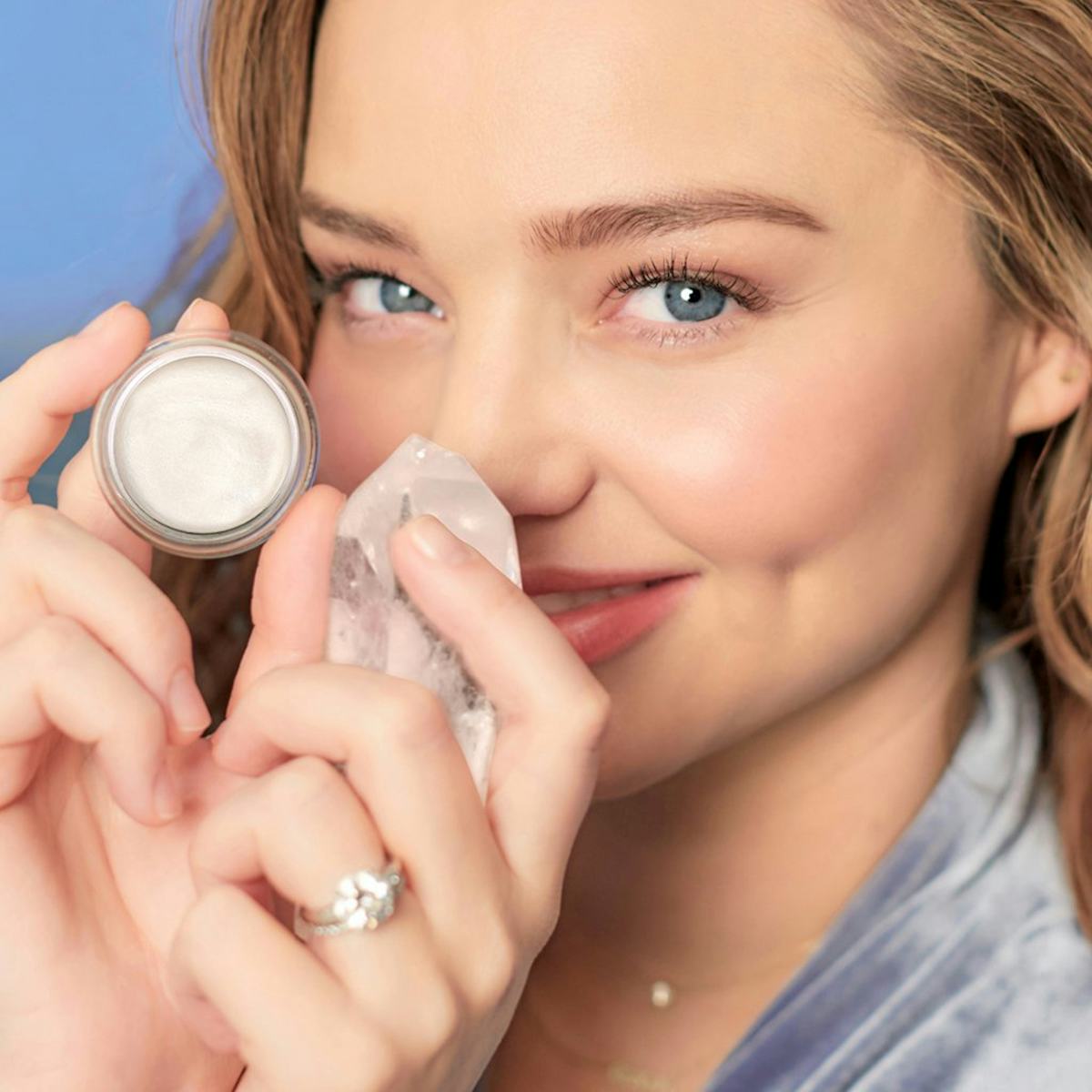 These Highlighters Are Made From Literal Crystals & Will Bring All The Good Vibes
Kora Organics
I love to wear products that give me a radiant boost. Sparkly eyeshadow, high-voltage highlighter, glittery lip gloss — if it twinkles, I'll wear it. One new dazzling drop in particular has me especially excited because on top of boasting a covetable glimmer, it's also completely toxin-free. Kora Organics' luminizing balms are about to hold court within my beauty cabinet and once you hear more about how magical they are, I have a feeling they'll find their way into yours, too.
If you haven't tried Kora Organics before, you should. Not only was the brand launched by supermodel Miranda Kerr, but it promises to make all of its products without artificial or synthetic colors or fragrances, turning instead to organic and natural ingredients. The company is also cruelty-free, meaning it doesn't test on animals. According to its website, "The majority of our products are classified vegan and all products are proudly cruelty-free, tested on Miranda, not on animals!" Kora Organics believes that beauty products should nourish, detoxify, and revitalize safely, which is all you could really ask for in an ace beauty brand, right?
Earlier this year, the brand launched its first luminizing balm, which has become a much-loved product for many reasons. The hue is called Rose Quartz, which is an obvious choice for a name once you discover that actual blush quartz was used to create it. If you're into crystal therapy à la Spencer Pratt, then you're going to love this product.
As described on Kora Organic's website, the product is "an organic highlighter containing finely crushed Rose Quartz to create a soft pink hue that provides hydration and a luminous glow." It also contains organic noni fruit extract, coconut and rosehip to give you super healthy and glowy skin. As you'll see in photos of the product, it's not overly thick, shimmery, or pink, and looks super natural — I'd use it as a blush. It's basically the most covert yet covetable highlighter out there. Rose Quartz is known to help heal the heart and foster empathy and forgiveness of others. All good things!
On Aug. 7, much to my delight, two new shades of the highlighter dropped, both of which also contain real crystals.
Clear Quartz is, as you might have deduced, a highlighter boasting a clear base. It results in a soft, sheer sheen on skin and also has hydrating qualities. In terms of healing properties, Quartz evidently helps with the clearing of the mind and the smooth flowing of energy throughout the body.
The other new addition is certainly the trendiest. Called Amethyst Luminizer, it boasts a millennial lilac base hue that actually transfers to skin rather detectably. If you're looking for a highlighter that has an otherworldly quality to it, this is certainly it. Amethyst is also attributed to having healing powers in terms of physical ailments and emotional issues, so why would you not want to rub it into your skin?
All three products can be bought online at koraorganics.com, and they each cost $28. Not a bad price to start with, but when you factor in the clean ingredients used in each product, it's really a steal.