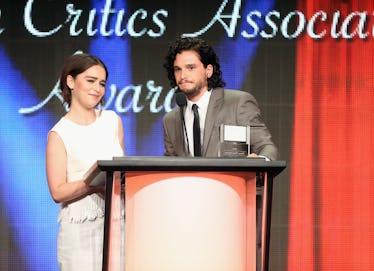 Jon Snow & Daenerys Are Presenting Together At The Golden Globes & We're Melting
Frederick M. Brown/Getty Images Entertainment/Getty Images
With Game of Thrones' filming schedule altered to run through the winter months, the award show circuit for its actors has become a little awkward. Instead of being finished with the coming season in December, actors are now having to fly from the GOT set in Europe to Los Angeles in order to participate in awards shows. This is especially frustrating when GOT only has one nomination, and a cursory one at that, at this year's Golden Globes. To assure fans of at least some attendance, the Hollywood Foreign Press Association announced that Kit Harington and Emilia Clarke will present at the Golden Globes this coming Sunday, Jan. 7.
While the series has been fêted several times over at the Emmy Awards these last few years, the Globes have been far more stingy, perhaps not wanting to be seen as following in the Emmys' footsteps. Game of Thrones won Best Drama and Best Supporting Actor in the first season, but has barely managed any attention from the Globes since. In fact, several seasons went by before it scored another Best Drama nod.
Only Peter Dinklage (who plays Tyrion Lannister) and Lena Headey (who plays his sister, Cersei) have been nominated in the Supporting Actor/Actress categories, and only Dinklage has ever won. Those nominations are usually out of a barrage of submissions from the series, in which every major actor from the ensemble show is submitted to the Supporting Role categories.
Why is everyone in Supporting? Because there are rules of how much screen time a character is given over the course of the season before they can submit as "Leading" and, up until this year, no one in the show hit the magic number.
But with the shortened time frame of only seven episodes for Season 7, plus the reduction of characters to the core cast, Clarke (who plays Daenerys Targaryen) and Harington (who plays Jon Snow) qualified for the Leading category first time. So, instead of the full barrage, HBO submitted *just* the two of them to the leading categories, and no one in Supporting.
If HBO was hoping the switch-up would endear it to the Hollywood Foreign Press voters, it didn't work. Instead, both Harington and Clarke were passed over, and the show once again only has a single nomination in Best Drama, where it is expected to lose to either The Crown Season 2 or The Handmaid's Tale Season 1.
But with the Emmys being left out of nominating Season 7 completely this past September, the Globes want to at least get credit for having a crack at the show first, for the one and only time that will happen. To that end, it has brought the now-leading man and lady to hang out at the podium and hand out an award, and probably crack a dragon joke, if not one about boats.
Harington and Clarke have great chemistry together too, not just as their characters. They're also Instagram pals, and were even cast in a commercial together recently for Dolce & Gabbana.
Moreover, having two cast members on stage will encourage some of the more reluctant attendees to take the flight from Ireland to Los Angeles. Perhaps not Lena Headey, but certainly Sophie Turner and Maisie Williams, who have budding careers as red carpet staples, as well as in Marvel movies. Others, like Aidan Gillen (the just-departed Littlefinger), may also want to show up for their last hurrah on the red carpet as GOT cast members before moving on.
The 75th Annual Golden Globe Awards will air live on NBC starting at 8 p.m. ET on Sunday, Jan. 7, 2018, with a two-hour red carpet event beforehand. I look forward to seeing Clarke and Harington at both.