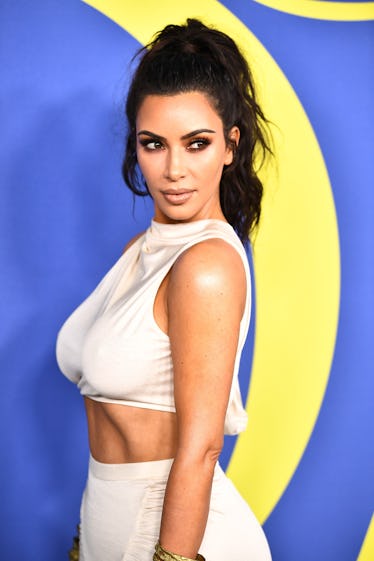 Kim Kardashian Just Gave A Hopeful Update On Getting That Edit Button On Twitter
Dimitrios Kambouris/Getty Images Entertainment/Getty Images
Are you guys all loving this new superhero version of Kim Kardashian as much as I am? First, the reality star used her celebrity status to get Trump to grant Alice Marie Johnson clemency. Now, she's using her power to get the world an edit button on Twitter, and I am so here for this amazing turn of events. Seriously, Kim Kardashian's Twitter edit button update will give you so much hope. It turns out, the Keeping Up With The Kardashians star had a little chat with Twitter CEO Jack Dorsey during her husband Kanye West's 41st birthday party, and OMG I wish I was there to hear it all go down. I am just so into this whole incarnation of Kim as a lobbyist for the people. I mean, Kim K. 2020, am I right?
So about that update. Kardashian took to Twitter on June 12 to let us know that she has been busy working hard behind the scenes to give us all the much-needed ability to edit our tweets. After all, you can edit your posts on Instagram and Facebook — why not on Twitter, too? "I had a very good convo with @jack this weekend at Kanye's bday," she wrote. "I think he really heard me out on the edit button."
"Now I see why I was invited!" Dorsey tweeted back.
To which Keeks responded: "Hahaha never! Kanye loves you! But I had to bring it up."
Kim with the moves!
Of course, this isn't the first time the mogul mama has requested the function. It looks like she originally brought the idea up on Twitter back in 2015.
"I just emailed Twitter to see if they can add an edit feature so that when u misspell something u don't have to delete & repost Let's see..." she wrote.
"Great idea!" Dorsey tweeted back. "We're always looking at ways to make things faster and easier."
Obviously, it's now three years later and the edit button has still not come to fruition. But maybe now that Kardashian's got some experience with getting things done, she can finally make this thing happen. It also doesn't hurt that she inadvertently bribed Dorsey with an invite to Kanye's birthday party.
In May, she met with Trump at the White House to discuss prison reform and the sentence of Johnson, who was a serving life in federal prison for a first-time, drug-related crime. The reality star had been pushing for Johnson's release over the past few months, and just days after the visit, White House officials announced that Trump had decided to commute Johnson's sentence!
Way to go, Keeks! Mad props for not only standing up for what you believe in, but for standing up for a woman you didn't even know!
Kardashian took to Twitter to share the big announcement with her fans.
"BEST NEWS EVER!!!!" she wrote.
It really is a major coup, so I have to wonder... can the addition of an edit button be far behind? And what other great feats can Super Kim score for the world? Can she get the wall back on Facebook? Or get my Instagram feed back in chronological order?
No matter what her next undertaking is, it's clear that Mama Kris Jenner is mad proud of her daughter. On June 8, she spoke to reporters during the Moschino's resort collection show about Kim's success in passing the appeal.
"I'm just really proud of her because she decided that this is something that she wanted to do," Jenner said. "She went after it. She worked on it for months and months, and was able to have this amazing result."
Way to make a difference, Kim! Keep up the good work!