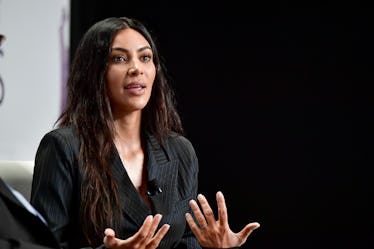 Kim Kardashian Tweeted About The Parkland School Shooting, & Her Message Is Serious
Dia Dipasupil/Getty Images Entertainment/Getty Images
Feb. 14, 2018 was a tragic day. Just before 3 p.m ET., a school shooter opened fire in Marjory Stoneman Douglas High School in Parkland, Florida, killing more than a dozen people. Though the suspected shooter has been detained and is in police custody, the tragedy highlights a bigger issue: gun violence. Many people have taken to their social media accounts to denounce the shooting and call for better gun control laws — including one person you might not have expected. Just hours after the shooting, Kim Kardashian also took to her Twitter to call for gun control reform. And honestly, Kim Kardashian's tweet about the Parkland school shooting might be the most serious and important message we've ever heard her utter.
On Wednesday evening, the beauty mogul and reality star posted a message to her Twitter, begging Congress to impose legislation that would "protect Americans from senseless gun violence." She also added that it would take action to incite gun control, not just prayers. Her tweet, which has garnered more than 100,000 retweets in two and a half hours, read,
We owe it to our children and our teachers to keep them safe while at school. Prayers won't do this: action will. Congress, please do your job and protect Americans from senseless gun violence
Her tweet came about an hour after Broward County Sheriff Scott Israel's office confirmed 17 fatalities via a Twitter post. According to CNN, investigators believe the shooter triggered the fire alarm to get people to come out of their classrooms, and when it went off, many people thought it was a false alarm since they'd had a fire drill earlier in the day.
At 3:36 p.m. ET Broward Schools posted a message to their Twitter page to announce that students and staff at the high school heard gunfire, and that students were being dismissed. The tweet read,
Today, close to Marjory Stoneman Douglas High School's dismissal, students and staff heard what sounded like gunfire. The school immediately went on lockdown but is now dismissing students. We are receiving reports of possible multiple injuries. Law enforcement is on site.
Footage from the incident showed students running away from the school while SWAT team members stood nearby.
According to CNN, the suspect is a former student of the school who had been expelled for "unspecified disciplinary reasons."
Kardashian's tweet is serious.
Kardashian rarely ever speaks out about serious issues in such a bold way, so her tweet is really important. And it seems like it needed to be said now more than ever, considering that this is the 18th school shooting in 2018, according to gun safety advocacy group Everytown for Gun Safety. That number includes eight instances in which a gun was fired but there were no injuries, and two instances of attempted or completed suicide.
The vast majority of the reality star's posts are related to her businesses, her TV show or her family, but she's grown more political over the past few months — especially when it concerns something she's passionate about.
Like on Oct. 4, 2017, when she shared a tweet that called for gun control after the mass shooting in Las Vegas.
Or the time she sent a message of support to the "Dreamers" of the Deferred Action for Childhood Arrivals (DACA) program after President Trump promised to end it. Kardashian shared a tweet that said she stood with Dreamers, following it with a since-deleted tweet which shared a Bible verse that read,
When a foreigner resides among you in your land, do not mistreat them. The foreigner residing among you must be treated as your native-born. Love them as yourself, for you were foreigners in Egypt. I am the Lord your God.
There was even that time back in September 2017 when Kim tweeted a bold message to Trump for his reported inaction to help the people of Puerto Rico after Hurricane Maria left them without electricity. After the president told Puerto Ricans not to "believe the #FakeNews," Kim told him to stop "tweeting & golfing while people are dying!" and to "step up & help!" She wrote,
After sharing her message today, she continued to highlight her message through a string of retweets on Twitter.
Maybe this time her words will fall upon the ears of someone who can help incite the change she's calling for. Let's hope.