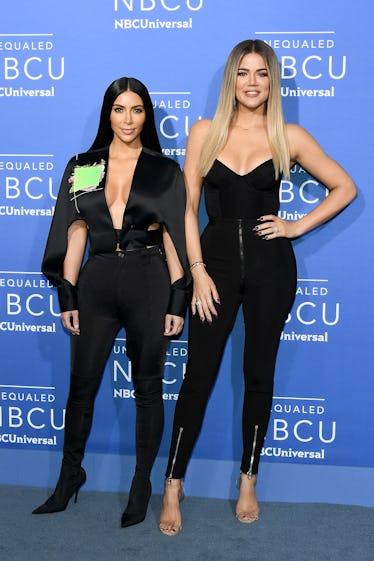 The Tiny Detail You Definitely Missed In Kim Kardashian's Congratulations Tweet To Khloé
Dia Dipasupil/Getty Images Entertainment/Getty Images
What a wild ride the Kardashians have been on lately. First, we got word about Tristan Thompson's reported cheating scandal. Then, we found out that Khloé was reportedly going into labor. Then, Khloé gave birth to her daughter, with the Kardashian family by her side. Wild ride, people. Wild ride. And now, we're getting to see all the Kardashian's reactions to Khloé giving birth, which is super sweet — but Kim Kardashian's tweet about Khloé Kardashian's baby is missing one major thing: any acknowledgement of Tristan Thompson.
In case you've already forgotten (highly unlikely), Tristan Thompson was spotted in New York City on Saturday, April 7, with an unnamed woman. The Daily Mail claims that the video footage captured shows Thompson and the woman kissing (though technically, his hoodie prevents us from seeing the whole thing). Elite Daily reached out to Kardashian and Thompson's teams regarding the report but did not hear back by the time of publication.
To make matters worse, TMZ claims to have obtained surveillance footage of Thompson reportedly hanging out with three women at a hookah lounge back in October of 2017, when Kardashian was three months pregnant. That video appears to show Thompson kissing one woman, and provocatively touching another's chest. Let's just say that things were not looking good for him. Elite Daily reached out to Kardashian and Thompson's teams regarding TMZ's report but did not hear back by the time of publication.
Since news of the alleged cheating came out, E! News reported from a source that Khloé Kardashian is "distraught" and is trying to move back to Los Angeles. The source said,
Her entire world has been turned upside down. She cried hysterically all night. She begged to come back to L.A. and tried to find any way to make it work but her doctor wouldn't let her. She just wants to be with her family and leave as soon as possible. Kris is there and completely supporting her.
Luckily for Kardashian, her family will always have her back, and they are beyond happy for her and her new baby girl. We saw Kylie Jenner congratulate her on the birth of her daughter with a sweet post on Snapchat:
Momager Kris Jenner posted a video of Kendall Jenner (which was originally posted by W Magazine) saying the word "baby" over and over, with the original caption that read, "When three of your sisters give birth in under a year. Congratulations to @KhloeKardashianon welcoming another girl to the KarJenner clan." Jenner reposted it, writing, "BLESSED!!!"
And Kourtney Kardashian took to Instagram and posted a photo of North West, Penelope Disick, and friend Tracy Romulus' daughter. The caption read, "GIRL POWER," so I'm assuming that this was meant to welcome Khloé's daughter to the Kardash Club.
But now, let's get to Kim Kardashian's tweet, because I personally feel that hers throws the most amount of subtle shade. Sure, Kylie, Kris, and Kourtney didn't mention Tristan Thompson — but Kylie's was simply a Snapchat filter, so she had no way to really altar the text. Kris was simply re-posting something, and Kourtney's Instagram post didn't even mention Khloé. It just didn't seem that odd that those posts didn't mention him at all.
Kim's post, however, was thoughtfully crafted and very detailed, which means she most likely left Thompson out on purpose.
She wrote,
@khloekardashian I'm so happy for you! Your baby girl is so beautiful! You are so strong, you made that look so easy! I can't wait for our baby girls to grow up as best friends the way we are! I'm so happy I was able to return the favor of holding your leg while you pushed LOL
I just want to say that I am thrilled that Kim let us in on that little detail about holding Khloé's leg as she pushed. Thank you for sharing that special moment with millions of Twitter users — it is so very appreciated.
And do you see how she congratulates Khloé, and how she tells her how strong she was through her delivery?
Do you see, at any point, her mentioning Tristan Thompson? No? Look harder.
Still nothing? Oh, right. THAT'S BECAUSE SHE LEFT HIM OUT OF THE WHOLE DAMN THING. And honestly, I can't even blame her.
So if you think that any of the Kardashians are going to show Tristan Thompson any love, you can think again. They've got Khloé's back through and through.
Once a Kardashian, always a Kardashian.