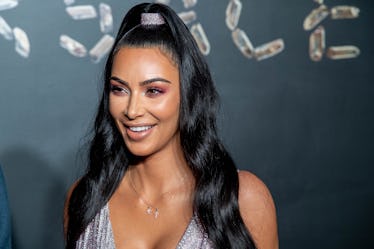 Kim K Went On An Instagram Spree Posting All Her Photos From The '90s
Roy Rochlin/Getty Images Entertainment/Getty Images
Kim Kardashian is back at it again with a new makeup collection. The mother of four is about to drop her latest makeup venture, the Mattes Collection by KKW Beauty, and to celebrate the drop, she posted about the '90s memories that inspired pieces of the collection. Kim Kardashian's throwback photos from the '90s are everything y'all need on this Throwback Thursday.
Kardashian's latest makeup creation is dropping on Friday, Aug. 16. Whenever she has a makeup launch coming, she gets fans hyped by posting videos of people using the collection via the amazeballs press kits she puts together. For the Mattes Collection, the press kits were designed to look like the cover of a '90s magazine, given that the inspiration behind the products are all our favorite '90s "it" girls. We're talking Naomi. We're talking Drew. We're talking Aaliyah.
In her Instagram post announcing the Mattes Collection drop, Kardashian said she loves how nostalgic this collection is.
"I'm so excited to announce my new 90's inspired collection of all matte formulas- The Matte Smoke & Matte Cocoa Collections!!!" her caption read. "I get a lot of my makeup inspiration from the 90's and love how nostalgic this entire collection is. The collection features 2 10-Pan Eyeshadow Palettes, 6 Lipsticks in a brand new matte formula, 6 Lip Liners, and 5 Eyeliners. Matte Smoke & Matte Cocoa are two entirely different color ranges, so there are so many looks you can create with this collection. I can't wait for you guys to try it!!! Launching to kkwbeauty.com on Friday, 08.16 at 12pm pst #kkwbeauty"
She cranked up the '90s nostalgia to 100 by posting old photos of herself from the '90s, revealing that her favorite lip shades from her teen years were the inspiration behind each lipstick in the collection.
The "90's Chic" Inspiration
The "90's Icon" Inspiration
The "90's Supermodel" Inspiration
These photos are everything. I love a good '90s throwback moment. Brings me back to my youth. She didn't include the inspiration photos behind the "90's Style," "90's Glam," and "90's Chic" shades, but there's still time for her to do that before the collection drops.
Kardashian has been throwing it back to the '90s in a lot of her fashion choices this year as well. She has been channeling Naomi Campbell's iconic looks (by channeling, I mean she's literally been wearing the same looks) throughout the year. At first, she wasn't crediting Campbell as the inspiration at all, which prompted people online to call her out for it, until she finally gave credit where it was due. In hindsight, she was probably working on the Mattes Collection while she was touting all these '90s tribute looks. We should have seen this makeup line coming all along!
Kardashian's Mattes Collection includes two different eyeshadow palettes (Matte Cocoa and Matte Smoke), five eyeliners, six lip liners, and six lipsticks. You can get just the smokey-themed bundle, or just the cocoa-colored bundle. Either way, you'll be cranking the '90s nostalgia up to 100.