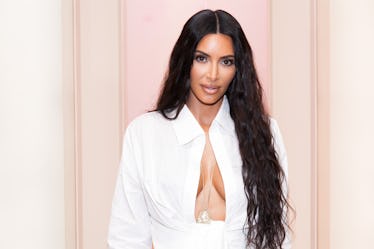 Kim Kardashian's Clapback About Kylie Jenner Being "Self Made" Has Me Confused
Presley Ann/Getty Images Entertainment/Getty Images
I'm going to be real with you all for a second: sometimes I have no idea what's going on with the Kardashians. Famous people sometimes have the tendency to act like they live on a different planet from us civilians here on earth — which I'm totally cool with because they're famous and whatnot — but on occasion it's a little much. I'm getting that exact vibe from Kim Kardashian's response about Kylie Jenner being "self-made." Ground control to Major Tom, I'm confused and need help.
Forbes chose Jenner to grace the cover on their August 31 issue about "America's Women Billionaires," calling her "self-made." Yup, the woman born into a wealthy family and who has been on our television screens for over a decade was being called a "self-made" (almost) billionaire. After facing backlash from the internet (obvs), big sister Kim Kardashian stepped in to defend Forbes' comment.
In a July 15 interview with Refinery29, Kardashian came to Kylie's defense and said that her sister really is "self-made" and that being born into wealth doesn't mean you can't be "self-made." She said,
I really didn't get it, because she is 'self-made' — we are all 'self-made. What, because we came from a family that has had success? To me, that doesn't really make sense... I know so many people like that [who] haven't turned out to be as successful as Kylie. If anything, I've seen the complete opposite.
Kardashian is right in one regard, that, unlike Jenner, there are people who come from money who do nothing with their lives. But "self-made" has a lot to do with where someone started, too, and you can't really be both born into privilege and be "self-made." It's just not how that works. I looked it up, and self made means, "made such by one's own actions; especially : having achieved success or prominence by one's own efforts." And while it's definitely admirable that Jenner has become such a highly-valued businesswoman, she definitely had help to make it there.
I'm not saying that all of Jenner's success comes from the fact that she was born a Jenner, but she did have a major head start. By the time she was eleven, Jenner was already a reality television star because of her famous and wealthy family. Caitlyn Jenner was a famous Olympian, her mother Kris Jenner was a business woman and "momager" to Jenner's older sisters — the Kardashian girls — who were already garnering some fame of their own. Even beyond money, Jenner had a whole lot of professional expertise and a famous name to leverage when it came to starting her business. Let's face it, I don't know exactly how celebs run their businesses, but I can tell you that if I slapped my own name on some Jenner lipkits, you'd probably find them in the CVS bargain bin or, more realistically, nowhere.
This whole thing started on July 11, when Forbes tweeted out a digital copy of the cover that talked about Jenner's $900 million success as a "cosmetic queen" and called her a "self-made billionaire." "At 21, she's set to be the youngest-ever self-made billionaire," read the cover. "Welcome to the era of extreme fame leverage." Forbes even included #SelfMadeWomen in their tweet.
Not everyone agree with Forbes' definition of "self-made." Twitter was very quick to clap back at Forbes for calling Jenner a "self-made" billionaire.
Even a dictionary had to weigh in, and deserves the ultimate shade award for their response. The Dictionary.com Twitter replied to Forbes on July 11 with a link to the definition of "self-made" and even used it in a sentence. Dictionary.com tweeted,
Self-made means having succeeded in life unaided. Used in a sentence: Forbes says that Kylie Jenner is a self-made woman.
When the dictionary joins in the backlash, you know it's bad. Maybe in future we all just acknowledge that Jenner had some help, and call it a day, OK? Lord knows we're all still buying the lipkits anyway.