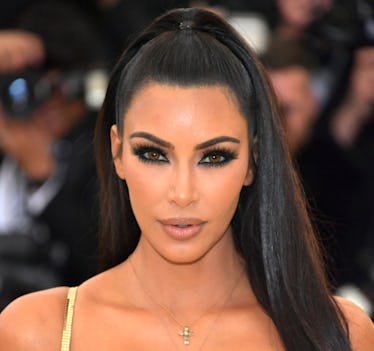 Kim Kardashian Shared The Most Heartfelt Message On Mother's Day & I Can't Even
Neilson Barnard/Getty Images Entertainment/Getty Images
Mother's Day is a time to celebrate mom and thank her for all the work she does on a daily basis. While I'm appreciating my mom, I like to take a look at how my favorite celebs honor their moms on this special day. And let me tell you, Kim Kardashian's Mother's Day message to Kris is so sweet I might cry.
The world has watched Kardashian and Kris Jenner's relationship play out on Keeping Up with the Kardashians. They've laughed, they've cried, they've dumped fancy cakes on each other (good times), but nothing really illustrates their bond like Kardashian's message to her mom on Mother's Day.
Kardashian tweeted a selfie of herself and mama Jenner both sporting some icy blonde locks. The good part, though, comes in the caption. Kardashian wished her mom a happy Mother's Day and thanked her for not only being the best mother, but also the best grandmother. She wrote,
Happy Mother's Day to the best mom in the entire world! You've taught us all how to live life to the fullest and work hard for what you want. You've always taught us that family above everything! Thank you for being the best grandma to my kids! I love you
Doesn't that seem really genuine? Sure we watch celebrities lives unfold on television or online all the time, but it's hard to decipher real emotion sometimes. But this tweet seems so honest and really precious. I hope my mom doesn't see it, she'll definitely have some words for my sub-par Mother's Day messages (sorry, mom).
Kardashian also took the time out to give a little Mother's Day love to her fans. She tweeted a black-and-white photo of herself and children North West, Saint West, and newest little bundle Chicago West. I thought the captions couldn't get any better than her Jenner one, but I was wrong. Just like every good mom knows to do, Kardashian wrote that she had to bribe her kids with candy to be in the photo. I love that so much. She wrote,
You don't even understand how many lollipop bribes this pic cost me...but it was so worth. Happy Mother's Day to all the moms out there. I'm the luckiest mom in the world to have these three babies in my life!
Seriously, it was kind of unbearably cute.
I feel like that's another really genuine moment, too. Not just the bribing of her children — which I am totally for if it means cute pics, by the way — but also how lucky she is to be a mother of three given how she's had a rough time with the birthing process.
Kardashian and husband Kanye West welcomed Chicago into the world in January. After the birth of their third child, Kardashian took to her app and explained that after she experienced serious health issues during her first two pregnancies which put herself and her children at risk, she decided to opt for a surrogate the third time around. She wrote,
I have always been really honest about my struggles with pregnancy. Preeclampsia and placenta accreta are high-risk conditions, so when I wanted to have a third baby, doctors said that it wasn't safe for my — or the baby's — health to carry on my own.
The Keeping Up with the Kardashians star was also very candid about how it feels to go through the surrogacy process. She wrote,
Having a gestational carrier is definitely different, but anyone who says or thinks it's the easy way out is completely wrong. People assume it's better because you don't have to deal with the physical changes, pain or complications with delivery, but for me it was so hard to not carry my own child, especially after I carried North and Saint.
Given all that Kardashian went though, it's nice that she has three beautiful children to celebrate her on Mother's Day. It's also nice that Kardashian took the time out to appreciate her mom for being a great mom and grandmother. Oh, but one more thing before I go — any more of those lollipops laying around?