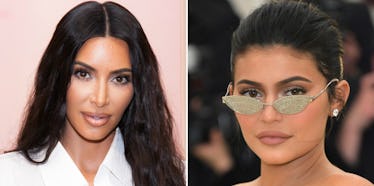 Kim K Just Revealed That She Always Thought Kylie Jenner Would Be A Young Mom
Presley Ann/Neilson Barnard/Getty Images
Kylie Jenner became a mom at 20, and it turns out her family always thought she would. During a Business of Fashion West panel on Monday, June 18, Kim Kardashian and Kris Jenner spoke about the future of Keeping Up With The Kardashians, as well as what their expectations for the show in the past were. That's when Kim Kardashian's comment about Kylie Jenner becoming a mom came in.
Kris Jenner was joking around saying Keeping Up With The Kardashians has no end in sight. "It's going to be here forever!" she said, teasing that North West will probably get married on the show. Then mama Kris said they all "used to say that about Kylie," and that's when Kim K piped in. She said, "We used to say, 'Season 17, Kylie has a baby, and we all looked at each other and [were] like, 'Oh sh*t! That just happened.'" Season 15 of Keeping Up With The Kardashians is coming up soon, so Kim and the rest of the Kardashians weren't that far off in their prediction of when the youngest sibling in the fam would become a mom.
Kris Jenner also said there's going to be intense family fights on the show this season (which premieres this summer). In fact, she said there's going to be a "major blowout" between all of the sisters.
Given the dramatic Season 15 trailer, that tracks.
In the trailer, there's more tense moments than there are happy. Kourtney Kardashian says to Kendall Jenner at one point, "Have you looked on the internet? Do you see what people say about me compared to you?" And she doesn't look pleased. Khloé Kardashian then appears in a separate shot and says, "For the past few months, you have had such an attitude towards me." Then Kim Kardashian appears in another shot straight-up yelling at someone, saying, "Don't even act like you know what I'm talking about." It seems like all of these moments could lead up to that big blowout Kris Jenner mentioned.
Kim K commented on this fight during the Business of Fashion West panel on June 18. "When I think about it, I do get really mad," she said. "It's basically just like people being disrespectful. It's the one thing that really gets me. Talk about Kourtney behaving like that." She also talked about how intense and frequent public criticism has gotten. She said, "Well, in these times, there's backlash if you sneeze… It's gotten really out of hand."
But she did ensure people in the audience that no matter the fights and drama, they're still supportive of one another. She said, "I think that the way my family and I have always dealt with everything is we know we have each other. Nothing else really matters."
Kardashian continued,
So at the end of the day, this could all go away and we all have each other and we're confident in that. So, we're always going to be who we are. And if one of us is fighting with, you know, a boyfriend or an ex, or whatever the examples you were giving, I mean, we all know what it is. Like, we all know we support each other and we love each other. And a part of all of that craziness has given us the platform to have our brands.
Speaking of platforms — and speaking of Kylie Jenner as a young mom — Jenner recently deleted all photos of Stormi Webster's face from her Instagram.
Jenner posted the above selfie to her account on June 10. You can see the edge of Stormi's face in the photo, leading people to think Jenner cropped her daughter out because she wanted the selfie to just be of her. One fan commented, "she cUT HER BABY OUT." Jenner responded, "Yeah I cut my baby out. I'm not sharing photos of my girl right now." Jenner didn't explain why she has chosen to suddenly not share photos of her daughter anymore, but maybe we'll hear all about it on Keeping Up With The Kardashians Season 15.