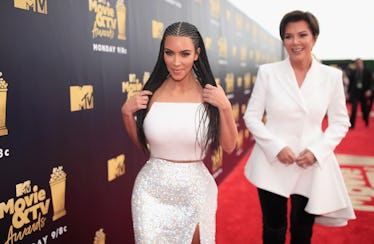 Kim Kardashian's MTV Movie Awards Look Featured This Controversial Hairstyle
Christopher Polk/Getty Images Entertainment/Getty Images
OK, I generally like to write about fun beauty trends, exciting new products and all the times celebrities kill it on the red carpet, generally lighthearted stories, but things are about to get real right now. Kim Kardashian's braids at the MTV Movie Awards are upsetting people, and I need break down the facts. The reality star has faced backlash in the past when she posted photos of her in parted-in-the-center cornrows, complete with blonde extensions and plastic beads at the ends. I remember cringing the first time I saw the photos — and not because of her scantily clad outfit choices.
Part of the problem here is the lack of recognition for the history of the hairstyle. This is where Kardashian West went all wrong. She shared on her Snapchat, "So guys, I did Bo Derek braids and I'm really into it." *Insert every face-palm emoji, here.* Just a little refresher for all you Gen Z babies out there, Bo Derek appeared in the 1979 movie 10, wearing the same braids Kardashian wore this January. You might not have seen the movie, but I know you've seen photos of the supermodel wearing long, blonde cornrows with beads strung at the bottom, running on the beach in a yellow one-piece. This scene became so influential in the '70s, that white women started popping into salons in major cities requesting "Bo braids." Primarily white salons even had to train their staff to execute the popular braids or hire stylists who were familiar with cornrows.
Imagine giving an incredible presentation at work and your boss taking all the credit for it. How upset would you be? This is how many in the African-American community feel about cornrows, robbed of credit and recognition. Even the name is of so much significance, but you'd never hear about it in pop culture. As Elle pointed out, according to folklore, African-American slaves working on plantations thought of the name "cornrows" because the braided hair looked like rows of corn in a field. With that in mind, imagine how someone might feel when an ancient hair trend created by your ancestors (not to mention in a time of such tribulation) is suddenly being named after after a blonde supermodel on a beach. I'm a firm believer in giving credit where credit is due, and not properly crediting the source is a major problem here.
However, there's so much to be said about pop culture "borrowing" a style, slapping a new name on it, and trying to strip it of its original heritage — or worse, calling it an update on something that would otherwise be considered low-class or vulgar. In 2014, the LA Times quoted a celebrity hairstylist saying, "Cornrows are moving away from urban, hip-hop to more chic and edgy." Even Khloe Kardashian called cornrows "ghetto braids" on an episode of Keeping Up With The Kardashians. Like, WTF!
So after all that, Kardashian West stepped out at the one of the biggest televised award shows in the same hairstyle that already got her into hot water once before (minus the beads and blonde extensions). If I'm being completely honest here, I think she looks beautiful — I mean, the woman is stunning, but the comments about cultural appropriation have already began rolling in. And let's be clear here, I don't think Kim Kardashian is racist (maybe uninformed and overexposed, but not racist). She's the mother of biracial children, all of whom should be able to wear cornrows without being called out for cultural appropriation. If she were to acknowledge the African-American influence and pay respect, then, would it be OK?
This leads me to wonder, at what point is it OK for people of different cultural backgrounds to wear hairstyles traditionally worn by others? Me, for instance, I love cornrows — I think it's a beautiful hairstyle, an age-old ritual that needs to be celebrated, and a work of art that deserves to be shown off — I am fully aware of where they come from and would wear them with the utmost respect, but I'm Mexican. Does that mean I can never wear cornrows, ever?
In any case, Kardashian West has a major platform to share information. Whether she's using it wisely is not for me to judge. However, I will say she is forcing the conversation about cultural appropriation — it's right there, in our face, where it can't be ignored. I don't know where she stands on the subject, but it really doesn't matter. Wherever you fall on the issue personally, it's an important conversation to be had.