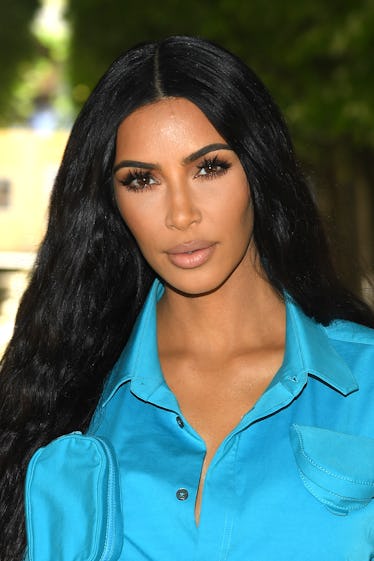 Kim Kardashian's 5 Most Precious Videos Of Chicago West Are Too Cute To Only Watch Once
Pascal Le Segretain/Getty Images Entertainment/Getty Images
Kim Kardashian just loves being a mom, and she definitely shows how much she loves it on social media. She shares just as many photos and videos of her kids as she does of herself. While she gives all three of her kids an equal amount of attention on social media, her youngest Chicago West is definitely the star of a lot of really cute videos. Since Kardashian has shared so many adorable videos of Chicago this year, I've put together a list of some of the sweetest ones. So, down below are Kim Kardashian's five most precious videos of Chicago West.
Kardashian and her husband Kanye West welcomed little Chicago on Jan. 15, 2018. Kardashian announced the birth with a sweet message on her app:
January 15, 2018, 12:47 a.m. 7 lbs 6 oz. Kanye and I are happy to announce the arrival of our healthy, beautiful baby girl. We are incredibly grateful to our surrogate who made our dreams come true with the greatest gift one could give and to our wonderful doctors and nurses for their special care. North and Saint are especially thrilled to welcome their baby sister. Love, Kim Kardashian West.
In the 10 months since then, Kardashian has shared some incredibly cute moments between her and Chicago that I'm sure she'll cherish for a lifetime. And Kardashian's fans are definitely cherishing them, too. Here's a look at five of cutest ones:
1. Chicago with a butterfly Snapchat filter
If you follow Kardashian on social media, then you know she's a huge fan of Snapchat filters. And when it comes to recording videos of Chicago, she's definitely not shy about using them. In this particular video, reposted by the fan account kimkardashiansnap on Instagram, you can see little Chicago looking at the camera and being super cute!
2. Chicago spending time with mom and brother Saint
By all accounts, little Chicago and her older brother Saint are two peas in a pod. And this video posted by Kardashian definitely makes that clear. In the video, you can see Kardashian holding Chicago, who makes a noise at the camera, and then Saint who does the same. It's the sweetest!
3. Chicago sitting with big sister North
While Chicago loves being with her brother Saint, she also loves spending quality time with her big sister, North. And Kardashian recorded her two girls sitting together in what looks like an adorable sisterly moment. North even gives Chicago a kiss on the head at one point.
4. Chicago letting her mom give her smooches
Like I said earlier, Kardashian loves being a mom, and she made that abundantly clear in a video she shared in July 2018. In the video, Kardashian is holding baby Chicago and kissing her all up. Such a sweet mother-daughter moment!
5. Chicago just being Chicago... but with a Snapchat filter
In early July 2018, Kardashian recorded a video of Chicago with a pretty cute Snapchat filter that included purple lipstick and a little cheek decoration (or "tattoo", if you will). In any case, it's super cute and Chicago is just hanging about while Kardashian has a little fun.
All in all, it seems like Kardashian truly enjoys sharing all these videos of Chicago. And I'm sure as the baby grows, fans can expect even more videos where all of these came from!