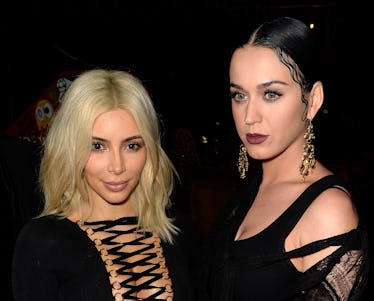 Katy Perry Straight-Up Sent Kim K's Nails To New York On A Private Jet For The Met Gala
Pascal Le Segretain/Getty Images Entertainment/Getty Images
So, let's say you're headed to the Met Gala and there's one accessory you really need to complete your look, but it's all the way on the other side of the country. What's a girl to do? Well, if you're Kim Kardashian, then you enlist the help of a famous gal pal like Katy Perry to deliver it! The accessory in question were press on nails. Yep, Kim Kardashian's 2018 Met Gala nails were sent via Katy Perry's private jet and Kardashian was more than happy to show them off.
How did this story make its way to the media? Well, it all started with a fan who kind of memed a Met Gala moment between Kardashian and Perry.
The fan posted photos of Perry admiring Kardashian's nails on Twitter with the following caption:
I can already hear Kim. "I don't usually do long nails so I decided to switch it up tonight"
Gotta love fans with a sense of humor. Kardashian loves them, too, because she responded to the fan pretty quickly with an explanation for the little moment between her and Perry:
Katy actually flew my nails on her plane over to me from LA LOL They are just glued on! So had to show her!
How funny! Here's a look at Kardashian's tweet:
That's so sweet of Perry to do Kardashian a solid like that! Girl power, am I right?
Press on nails aside, though, the Met Gala looked like it showed these ladies a fabulous time. And they both looked incredible.
Kardashian wore a custom designed gold Versace gown that featured embroidered crosses along the waist and hip lines of the dress. This was perfect for the night's theme, which was "Fashion and the Catholic Imagination."
Perry also wore gold, but took on a more angelic look than perhaps Kardashian was going for. Perry's dress, also a Versace, came equipped with an enormous pair of angel wings (they were removable, in case you're wondering!). So, you could say that Perry interpreted the night's theme quite literally.
Kardashian and Perry wowed fans and avid Met Gala red carpet watchers, so it was a win for both of them. And those press on nails really did complete Kardashian's look!
Another thing the two had in common for the night was that they both showed up alone! Kardashian's husband Kanye West was nowhere in sight, but that's because he's super busy working on new music.
Kardashian posted on Twitter that she wished West was attending the Gala with her:
West, of course, gave his wife's dress the stamp of approval:
West has recently been the subject of a host of negative media coverage for his rants about slavery and his support of President Trump. There's also been some questions about the state of his mental health. But Kardashian, undoubtedly, has his back and they seem like they're going strong! Good for them!
Perry, on the other hand, showed up to the event sans Orlando Bloom, who is beau once again after the two spent a year away from each other. Perry and Bloom dated for over a year before breaking up in February 2017. For the last few months, they've been navigating the romance rumor mill all over again. And in early May 2018, Glamour reported that the two were definitely back together.
Whether they're navigating negative media coverage or the rekindling of a lost romance, Kardashian and Perry definitely know how to sway the news cycle. And they certainly did that with their awesome gowns at the Met Gala. They both looked amazing on the red carpet and everyone is still pretty much reeling from all that gold and glamour!