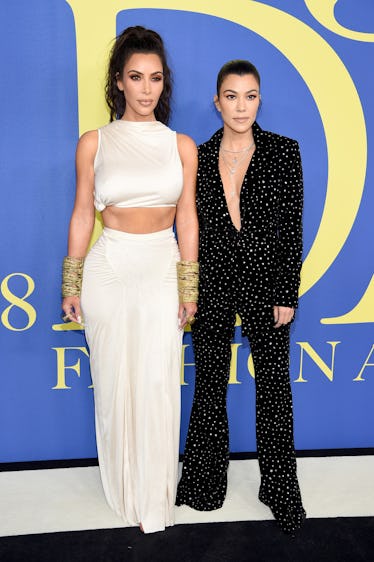 Kim Kardashian's Wild Plan For Kourt & Scott To Have Another Baby Will Make You LOL
Dimitrios Kambouris/Getty Images Entertainment/Getty Images
Kourtney Kardashian and Scott Disick might be ancient history and dating other people now, but I think there's a small part of everyone that can't help hoping that they eventually get back together. Or maybe that's just me and Kim Kardashian. In a preview for the latest Keeping Up With The Kardashians airing on Sunday, Sept. 30, Kim Kardashian wants Kourtney and Scott to have another baby, and her plan will make you LOL.
In the KUWTK preview clip, Kim can be seen processing some totally unexpected news: Apparently Scott Disick wants his ex Kourtney to be his baby mama once again, and the KKW Beauty guru is all about making this happen as Kourtney reportedly also wants to add another bundle of joy to her brood of three. After receiving the confessional text message from Disick, Kim can't help but hatch up a plot to make it all go down with the help of her friend Larsa Pippen.
"I think he just wants one more," Kardashian dishes to the Real Housewives of Miami star. "And she wants one more."
"If they both want to have more kids, like why not have them together?" Larsa reflects, noting that "their kids are gorgeous." Kim agrees, saying that back when she was pregnant with her daughter North and not certain about her and husband Kanye West's future together, she still wanted to have him be the father of her future children.
Considering that Disick is currently tied to Sofia Richie while Kourtney is having fun with her reported new flame Luka Sabbat, this could get messy. Elite Daily previously reached out to both Kardashian and Sabbat's team for comment on their relationship status but did not hear back by the time of publication. Kim notes of Disick and Kourt that they don't "even have to have sex," instead using IVF to get pregnant. Plus, having another child together could potentially rekindle their romance, which may not be such a bad thing as Kim admits that she does "hold onto this hope of Kourtney and Scott."
"It's just so much easier to have the same dad," Pippen agrees.
Just knowing the juicy nugget of information isn't enough, as Kim then conspires to make Disick's dreams play out in real life. In the clip, she can be seen drafting an email rallying support for another Skourt baby, which she then sends to her family members.
However, because this is reality TV and this is the Kardashians, drama ensues when sister Khloé calls to inform her that she accidentally sent the message to Kourtney as well. Oops. While you have to wait until Sunday to hear exactly what the eldest KarJenner sister thinks about the whole proposal, Disick's girlfriend is understandably not that thrilled about the idea, according to the Hollywood Reporter. Elite Daily reached out to Richie's representation for comment on the report, but did not immediately hear back.
"Sofia gets furious whenever Scott brings up having more kids with Kourtney. And oddly, it comes up all the time," the publication reports, citing a source close to the model. "Sofia thinks it is weird and totally inappropriate to even entertain the idea of having more children with your ex just to maintain continuity in the family."
Sorry Kim, but I'm kind of with Sofia on this one!