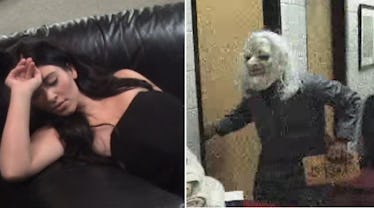 Kim K Shared A Homemade Horror Movie She Made With The Cheetah Girls In 2008 & Oh, It's Bad
YouTube
Happy early Christmas to me! I might be the only Kardashian fan on the planet who did not know about the precious gift Kim Kardashian and her friends from The Cheetah Girls made back in 2008, but I'm definitely the fan who cares about it the most now. Kim Kardashian and The Cheetah Girls' homemade horror movie Meow is roughly thirty minutes of pure genius. I mean, it's got everything: a spooky guy in a mask, fake blood, breakdancing, lipgloss, Kim Kardashian being "extra," a young, muscly Rob Kardashian... the goodness just goes on and on. Kim recently dug the movie out of YouTube's archives and shared it on Twitter, making my work day that much better and my life that much fuller.
On Monday, July 23, Kardashian and her daughter North were enjoying some good old-fashioned Disney Channel Original Movie time and catching up on the film, The Cheetah Girls. Kardashian gave her old friend and Rob Kardashian's ex, Adrienne Bailon, a shout out on Instagram joking she could have been North's aunt. It seems the movie had Kim feeling a little nostalgic, too, and prompted her to revive Meow. She shared the first video of the three-part film with her Twitter followers, writing:
So North requested we watch The Cheetah Girls movies tonight! And I found something really special... when they were on tour we made an epic horror movie called Meow and I found it on YouTube
Let me be the first (or millionth) to say it — Meow is a masterpiece. Sure, it's, like, terrible, but in a really good way.
For those of you that don't want any spoilers, I'd scroll down to the videos now. Otherwise, here's the plot in a nutshell: The Cheetah Girls are on tour and find their lead singer Princess, played by Kim, has been killed. Despite the tragedy, they jump on their tour bus to participate in what they think is a competition to become the next lead vocalist of the group (Ya know, because Princess is dead and everything) and audition for someone named LMNOPDiddy. In reality, a creepy person in a mask is just trying to kill everyone. In the end, it's revealed Princess' sister is the one seeking revenge on her famous sibling and responsible for all the deaths.
Truthfully, the script is genius. Given the fact this whole movie was clearly filmed in one evening, Kim and The Cheetah Girls do a great job of making fun of themselves and incorporating funny writing, goofy dance moves, and perfect horror film tropes. Plus, who doesn't love a good Rob Kardashian bicep circa 2008? My favorite part is when the credits roll at the end over a dance montage.
A dance montage, people.
Without further ado...
Meow (Part 1)
Meow (Part 2)
Meow (Part 3)
Do you die? (GET IT?!)
Something about this group shooting the sh*t and making each other laugh for funsies gives me the warm and fuzzies. Like, Kim took a minute from her outrageously famous life to make this stupid movie. Doesn't that give you hope, somehow?
God bless young famous people and their accessibility to things like tour stadiums, editing equipment, and professional choreographers.