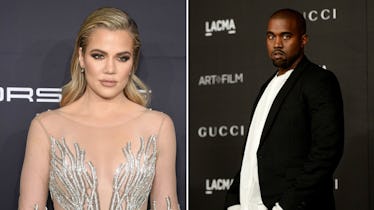 Khloe Kardashian Reacted To Kanye's New Music With A Tweet & It's Confusing
Jamie McCarthy/Jason Merritt/Getty Images Entertainment/Getty Images
By now, you're probably already aware that Kanye West has dropped his long-awaited new album entitled Ye. At midnight on Friday, June 1, in Jackson Hole, Wyoming, Yeezy unveiled his new music to some celeb friends at a listening party on the WAV app, if you haven't listened to any of the tracks yet, you're in for a real treat. The seven tracks off his album reveal a lot of personal details about West and those around him — showcasing everything from his mental health and drug addiction to calling out mother-in-law Kris Jenner's boyfriend Corey Gamble and Stormy Daniels. But there is one song in particular that has fans shook, because the lyrics West raps are about his sister-in-law's boyfriend, and father to her child, Tristan Thompson. It certainly hits below the belt, and many fans wondered if we'd hear from Khloé herself. Well, now we know Khloé Kardashian's reaction to Kanye West's Tristan Thompson lyric, and let me tell you, it's vague.
But let's rewind just a minute here — just so we have the full scope of the situation. On April 10, The Daily Mail and TMZ released videos of what appears to be Thompson kissing two different women on two separate occasions. All of this came at a time when Khloé Kardashian was still pregnant, and the timeline shows that these encounters would have taken place multiple times throughout her pregnancy. Elite Daily reached out to Kardashian and Thompson's teams for comment on the cheating reports at the time, but did not hear back by the time of publication.
The track where West disses Thompson, entitled "All Mine," has controversial lyrics, and not only pertaining to Thompson. Some of the lyrics go:
If I pull up with a Kerry Washington, That's gon' be an enormous scandal, I could have Naomi Campbell, And still might want me a Stormy Daniels, Sometimes, you gotta bag the boss up, I call that taking Corey Gambles, Find yourself up in the food court, You might have to enjoy your sample, All these thots on Christian Mingle, Almost what got Tristan single, If you don't ball like him or Kobe, Guarantee that b*tch gonna leave you
Holy sh*tballs is right, Khloé.
Of course, you can clearly tell which lyrics are calling out Thompson: "All these thots on Christian Mingle, Almost what got Tristan single." And honestly, those lyrics can't have bee easy to hear if you're Khloé Kardashian.
Fans, of course, wasted no time in taking to Twitter to show their reaction to the lyrics. Virtually all of the tweets were the text equivalent to the "Oh snap, he went there," wide-eyed face emoji:
I feel like Christmas is going to be really awkward for the Kardashian family this year, fam.
And now, we're finally hearing Khloé's side of things. On Saturday, June 2, Kardashian took to Twitter to share her thoughts on Yeezy's lyrics about Thompson (and his album in general), and what she had to say *probably* won't surprise you.
In true mysterious Kardashian fashion, she wrote, "Ye" with three fire flames.
OK, I'm kind of confused. Is she unbothered by the lyrics, or simply ignoring them? Hell, if it were me, I'd have probably said a lot more... and would have *definitely* given Kim a stern talking to. I might have even made her cry.
Sorry, Kim, but I think West's rap hits a little too close to home, don't you think?
Sigh. Let's all just hope that West's reported album collaboration with Kid Cudi, Kids See Ghost, set to come out on June 8, will exclude any form of Kardashian family drama. But, you know, no promises.