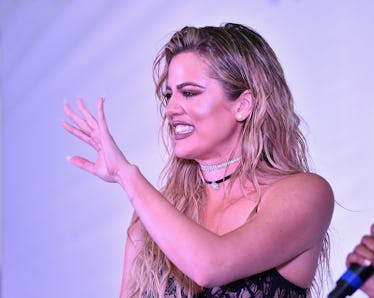 Khloé Kardashian Is Producing A True Crime Series & Yes, You Read That Right
Alberto E. Rodriguez/Getty Images Entertainment/Getty Images
Khloé Kardashian: reality star, fitness guru, mommy-to-be, denim designer... murder show producer? You heard that right. Just when you thought Khlo's schedule couldn't get more packed, the famous savvy sis going ahead and getting in on the true crime game. Khloé Kardashian's true crime series Twisted Series is reportedly in the works at Investigation Discovery.
Twisted Sisters, a six-part show that showcases sisters with murderous pasts, is set to be executive produced by none other than Ms. Khloé herself. The series will take viewers "inside the most outrageous and provocative crimes ever committed by the unlikeliest of pairs – sisters," according to the network's press release.
"I am so excited to be bringing you Twisted Sisters. As a self-proclaimed 'true-crime addict' there is no better way to tell these tales about the bonds that sisters possess and how they can go so terribly wrong," Kardashian told Page Six.
When it comes to entertainment, America's love of reality TV and true crime knows no bounds, so this project sounds like a success story in the making. With the charming Khloé in the mix, this series will probably – pardon our choice of words — kill it with KoKo and ID fans alike.
Group President of Investigation Discovery, Henry Schleiff, even weighed in on Khloé's involvement:
We are thrilled to be working with Khloé on this new venture . . . With one of the most renowned experts on sisters now a member of our own ID family, we know she will be able to bring a unique perspective that will inform and entertain our fans, while enticing new viewers to tune in.
Investigation Discovery is home to other crime-focused shows such as On the Case with Paula Zahn and Evil Lives Here.
Khloé has made her interest in the genre known before, even tweeting a request for more recommendations after binging the Netflix doc Making a Murderer back in 2016. She also shouted out the Discovery ID channel a few months later. Cut to two years later and she and her beloved network are now professional partners. Oh, how it's all come full circle.
Twisted Sisters won't be the first time Khloé has done the whole executive producing thing. She's held the title on Keeping Up With the Kardashians before, as well as on Khloé & Lamar and her talk show, Kocktails with Khloé. To top it all off, Khloé also hosts E!'s Revenge Body With Khloé Kardashian. Not only does she have a handful of TV projects to juggle, Khloé recently unveiled a new collection of of body-sculpting bodysuits courtesy of her fashion line, Good American.
In addition to a booming career, Khloé has been prepping for the birth of her daughter with boyfriend Tristan Thompson. "We are ready whenever you are little mama," Khloé captioned a sweet snap of her and her man on Instagram April 9, sparking rumblings that she might be going into labor.
With everything going on in her world, will Khloé also walk down the aisle in the near future? "I hope so, but I'm not in a rush for any of that. As you know I've rushed quite a few things before, and so...," KoKo revealed to Ellen DeGeneres back in January. "So right now I'm so loving the place I am in my life and I'm just very happy with how things are going."
Um, I never thought I'd be referring to Khloé as a true crime producer of all imaginable things, but here we are. The sky appears to be the limit when it comes to this Kardashian's ventures to come.