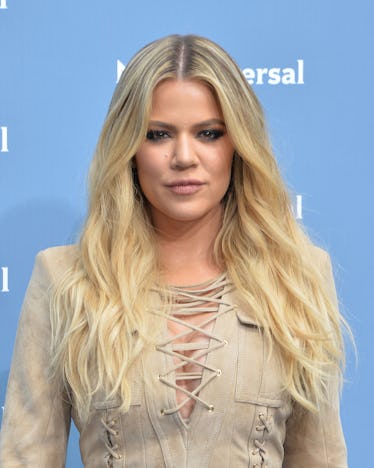 Khloé Kardashian's Latest Photo Of True Thompson Is Close-Up & Even Cuter Than Usual
Slaven Vlasic/Getty Images Entertainment/Getty Images
Keep the baby pics coming, Khlo! Ever since Khloé Kardashian gave birth to her first child, True, fans have been dying for the inside scoop on her new life as a mommy and how the wee one is doing. The fact is, True Thompson came into the world at a particularly tense time in her parent's relationship but you wouldn't know it from her sweet little face. Khloé Kardashian's latest close-up photo of True Thompson might just be my favorite yet and fans are eating it up. This baby is so, so cute, y'all.
Just two months ago, True made her big debut at the same time her dad Tristan Thompson was allegedly caught kissing other women. Elite Daily reached out to Thompson's team about the rumors, but did not hear back by the time of publication. It was a wild time, to say the very least. However, Kardashian only focused on the positive which was, of course, HER BABY! Fans were wondering how long it would take for Kardashian to release a photo of her new bundle of joy and slowly but surely the pics have started rolling out. The latest one shows baby True taking a little bath with her chubby cheeks totally front and center.
Kardashian shared the picture on her Instagram story and included two drawn-on hearts.
Do you die?
Look at those cheeks! Look at those little fists! Look at those sweet, sweet, innocent eyes full of wonder and joy!
Kardashian got sentimental on Twitter and posted the message:
I cannot believe my girl is going to be two months old tomorrow. Where is the time going but at the same time, every milestone I look forward to! I'm on alert every day to hear her first giggle. I cant wait for the giggles!
Oh my god, I didn't even consider the giggles were coming!
One time, True sneezed and it was legitimately the cutest thing I've ever seen. Like, here is True sneezing:
WOW. I digress.
According to everyone in Kardashian's family, her attention is mainly on raising True while working on her relationship with Thompson continues in the background. Family matriarch and Final Say On Everything Kardashian, Kris Jenner, recently told E! News she's just trying to have her daughter's back while she works through this challenging time in her relationship and exciting time as a new mom. Jenner said, "I think you just have to be there for your kid and follow their lead. I'm not in that relationship or in that situation, so I really trust Khloe. She's so smart and such a great girl and she'll figure it out."
Love ya, Mom.
A source previously told E! Kardashian wants to give Thompson a second chance so they can be a family. The insider explained,
Khloe has given Tristan another chance at their relationship, and is trying to put the pieces back together for the sake of True. Although she is crushed by the scandal, Khloe desperately wants things to work and wants to have a complete family.
Elite Daily reached out to Kardashian and Thompson's teams for comment on the report but did not hear back by the time of publication.
All of that said, marriage is way off the table, for now. "Of course, she has always thought she would get married again and wanted that with Tristan, but any conversation or plans have been put to a halt and are not even a discussion," another insider told E!Online. "Now that she has made a decision to spend more time in Cleveland, Khloe and Tristan are trying to repair their relationship one day at a time."
Elite Daily has reached out to Kardashian's team for comment about the report, but did not hear back by the time of publication.
The good news is, sweet cheeks baby True is an endless ball of sunshine to keep everyone going. More pics! More pics! More pics!
Check out the entire Gen Why series and other videos on Facebook and the Bustle app across Apple TV, Roku, and Amazon Fire TV.