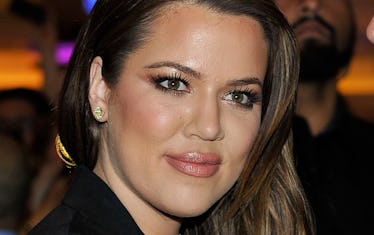 Khloé Kardashian Talked About Tristan Thompson's Parenting & TBH, I'm Emotional
David Becker/Getty Images Entertainment/Getty Images
It's no secret that fathers parent differently than mothers, so when you think of parenthood, you probably think about the division of labor that comes with it, too. Of course, it's different for everybody — but let's just say this: Maybe the mother is responsible for feeding the baby, while the father helps tackle nap time. And sometimes those divisions can be seen as unfair or imbalanced. But Tristan Thompson is apparently breaking the mold, because Khloé Kardashian said Tristan Thompson is a "great daddy." BRB, I'm crying.
The Good American designer opened up about Thompson's parenting behaviors on Friday, July 6 via Snapchat during her first day back at work. Her comments truly are surprising, considering all the turmoil the couple went through following his recent cheating scandal. If you're somehow not aware, the Cleveland Cavaliers baller was seemingly shown kissing multiple women in videos shared by both The Daily Mail and TMZ just two days before Kardashian gave birth to their daughter, True, on April 12. Elite Daily reached out to Kardashian and Thompson's teams for comment on the scandal at the time, but did not receive word back.
In a Snapchat Story on Friday, July 6, Kardashian said, "I'm very grateful because Tristan is being a great daddy and he has done all the feedings while I've been gone."
"Shout out to all the good dads out there," the 34-year-old added of her beau, who also shares an 18-month-old son, Prince, with his ex-girlfriend Jordan Craig. The duo split before he linked with Kardashian.
Although the reality star went on to admit that she was "anxious" to leave True to get back to work, she also said she was "eager" now that she has someone else to live for, and OMG. My heart!
Thompson, himself, had previously opened up about his experience with fatherhood during an interview on the Road Trippin podcast on Wednesday, May 9 — specifically when it comes to True. He said, per Us Weekly:
I think with a girl, you're just so much more emotionally like … With a boy, it's just like, 'Hey, man. You'll be alright, man. Stop crying'... But with True, it's like, 'True, it's gonna be OK. You know, we're right here. Daddy's here to feed you. It's me! Look, yeah!' It's way different, but it's fun, though … It changes you.
He apparently even enjoys being a daddy so much that he was already looking forward to having more children, telling Road Trippin, "I'm gonna keep going. I've got a couple more. I got a couple more left."
His comments are surely a major contrast to those of Kardashian's in August 2017. Although she was optimistic of her and Thompson's future, she also explained that she wasn't in a rush to start having babies in an interview with The Daily Mail's You magazine. Kardashian reportedly said:
Tristan is a great dad [to Prince] and he definitely wants more children, but we both feel that it will happen when the time is right. We're still in a new relationship and I love us having time together. Once you have kids you can't get back your non-kid years. My sisters and I bother my mum all the time, so I know it's not, like, 'When they're 18, you don't worry about them again.' You worry about your children for the rest of your life.
Clearly, these two have made drastic changes since Kardashian made those comments, and it's all seemingly worked out for the best. I'm ecstatic to see just how they hold up when they start adding more babies to the klan.