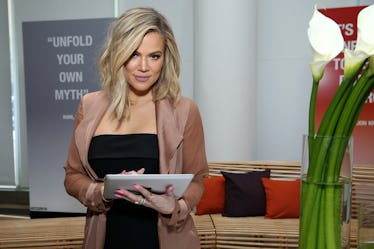 Khloé K Knows Tristan Thompson's Phone Passcode Based On This Video, Because Duh
Cindy Ord/Getty Images Entertainment/Getty Images
It's been a rough few months for Khloé Kardashian and her boyfriend Tristan Thompson. They've grappled with salacious cheating rumors, welcomed their daughter True into the world, and spent countless hours working to mend their relationship. In light of all that's happened, it's only natural that Khloé take some precautionary measures to ensure her little family sticks together. And the world was clued into what that looks like via Snapchat. Basically, Khloé Kardashian knows Tristan Thompson's phone passcode, and it was actually her sister Kim who broke the story.
The revelation, which came via Snapchat... isn't that surprising? Of course, Kardashian would know Thompson's passcode. Just to refresh your memory, Thompson was implicated in cheating rumors back in April 2018 just days before he and Kardashian's daughter True was born. The Daily Mail broke the story first, alleging that Thompson was cheating on Kardashian with an unknown woman. Elite Daily reached out to Kardashian and Thompson's teams for comment but did not hear back by the time of publication.
Kardashian and Thompson have yet to acknowledge the rumors, but there are reports that it'll be addressed on an upcoming season of Keeping Up With The Kardashians.
Back to the Snapchat revelation, though. What happened was that Kardashian was celebrating her birthday with Thompson and her sister Kim. While Kim was Snapchatting the whole thing, she asked if it was the right time for Thompson to unblock her on Instagram. (Thompson famously blocked Kim on Instagram amidst the whole cheating scandal saga.)
Anyway, Kim basically asked fans if they thought Thompson should unblock her.
"All right guys, what do you think? It's Khloé's birthday, should I ask this guy to unblock me?" she asked. Thompson responded favorably, of course. "For Khloé's birthday it's only right," he said. "I got you."
Then Kardashian got involved, nabbing Thompson's phone and making the move to unblock her sister herself. "Wait what's your code," Kim asked as Thompson was just about ready to enter the password. "She knows it!" Thompson said. It was all fun and games, really, and all three seemed in really great spirits over the whole thing.
While it may not have been a big deal to them, it was certainly a big deal to Kardashian fans everywhere. On the Instagram account kimksnapchats, where the video was posted, fans went off in the comments about the whole situation.
"Sad! So they basically saying it's ok to cheat! Khloe pathetic to even stay with a guy like him! Disgusting," one fan wrote.
Another fan was just happy everyone was getting along. "I love to see them all getting along. Kim is beyond words. I'm speechless with her. Her level of perfection in this lifetime has PEAKED," they said.
Other people had some choice words about Thompson's presence in the video. "I guess it doesnt take much to get back into the fold," one person said. Someone else thought the situation was awkward. "Awkward party banter. He will be history soon enough," they wrote.
Ooof. Tough crowd. At least Kardashian and Thompson are getting along and there isn't any infighting. That's the important thing. They're all there for the birthday girl and that's all the matters.
In recent months, it's been reported that Kardashian's family isn't at all happy with Thompson and his antics. But since Kardashian is committed to making the relationship work, there's not much they can do.
According to a May 28 report from People, Kardashian was struggling to trust Thompson, but was ready to do what it takes to continue the relationship.
Of course it's hard for Khloé to trust Tristan when he goes out of town for games. She knows her family is right when they warned her to not trust him. But she still wants to keep trying to have a great relationship with Tristan again.
Well, it certainly looks like they're headed in that direction. They both look super happy.