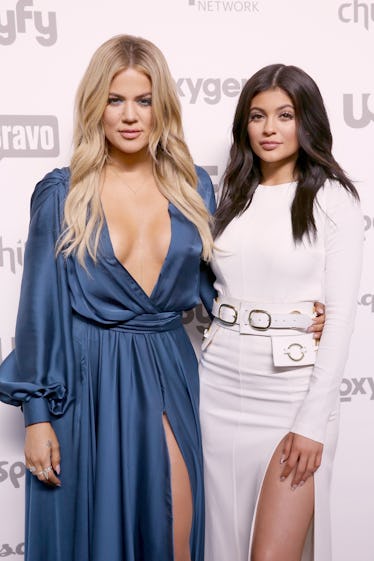 Khloé Kardashian Commented The Funniest Thing On Kylie Jenner's Latest Bikini Pic
Robin Marchant/Getty Images Entertainment/Getty Images
I gotta be honest, I know she just had a baby and she's currently dealing with a huge cheating scandal thanks to Tristan Thompson, but I really missed hearing from Khloé Kardashian on social media. Like, a lot. So when she finally popped up to share some sass on Instagram on May 3, I was hella excited! Not only did she leave a hilarious quip on a post about her and her big sis Kourtney — more on that in a sec — she also showed up on one of her little sister's feeds, too, and what Khloé Kardashian commented on Kylie Jenner's bikini pic is actually so, so perfect.
It all started when KoKo hit up the E! News Instagram feed to comment on an image of her walking with Kourt that had been posted with the following caption: "If there's any sister that understands a bit of what Khloé is going through it's Kourtney Kardashian. Link in bio for the exclusive story on how Khloé is learning to cope by leaning on her sister." In response, the Revenge Body star went all Mama Bear: "Oh damn... I hope I don't crush her by leaning on her! I love my little @kourtneykardash."
Has anything ever been more amazing? I'm just trying to picture Khloé at home, breastfeeding True while she scrolls through Insta, as she sees this pic and pauses to post the awesome clapback. I'm glad to see that despite everything she's dealing with, the new mama is still cracking jokes. In fact, the response to her comeback was so good, it even earned a spot on the @commentsbycelebs feed. And if you're not already following that Instagram account, then who even are you?
As for Kylie's post, here's what went down there. First, KyKy posted a pic of herself in a black bikini and matching mesh cover-up on Instagram. Then Khloé responded with the ultimate compliment for someone who has recently given birth: "Milf Af."
First of all, I love the way Khloé is so supportive of her little sis. I've never had a sister, but I've always wanted one, and this only makes me more convinced than ever that there is just so much good stuff I'm missing out on. And second of all, who else here is hoping that Khloé's willingness to get cheeky on social media — even if it's just in the comment section — is a sign that she's getting ready to share some pics of little True, or at least of herself?
I'm ready whenever you are, mama! After all, we've already seen Kylie share tons of pics of her own daughter, Stormi, on both Instagram and Snapchat. In fact, Khloé left a comment on one of those, too. "Both of my cuties," she wrote in the comment section of a post that featured a seriously sweet image of Kylie holding Stormi.
It's nice to know that despite everything she's dealing with, Khloé is still her same old fun and nurturing self, and I know she'll start sharing pictures of True as soon as she's ready. In the meantime, her sister Kim showed up on The Ellen Show on May 1 to let us all know how she's doing.
"We really were rooting for Khloé and we still are," Kim told the talk show host. "You know she's so strong and she's doing the best she can."
Aw, my heart really does break for Khloé, but it helps to know she has such a tight fam to fall back on, and four amazing sisters who always have her back.