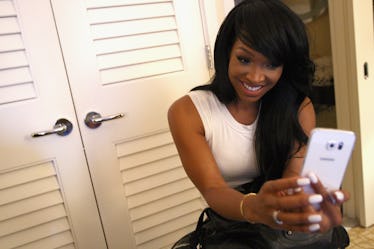 Khloé K's Bestie May Have Shaded Tristan Thompson Over Those Cheating Reports
Tommaso Boddi/Getty Images Entertainment/Getty Images
Since Tristan Thompson's cheating allegations hit the media on April 10, he's felt the unrelenting wrath of social media. But now someone who's really close to Khloé Kardashian is (seemingly) speaking out. Khadijah McCray's Instagram amidst the Tristan Thompson cheating rumors is so shady that it just has to be directed at the baller.
According to The Daily Mail, Thompson reportedly cheated on Kardashian on April 7 while he was in New York gearing up for his team's game against the New York Knicks. Additionally, TMZ shared footage that reportedly showed the baller making out with an unidentified woman at a hookah bar back in October 2017. (Elite Daily reached out to representatives of both Thompson and Kardashian for comment on the reports, but didn't receive a reply.) Ever since the reports hit, we've been waiting for a response from the reality star to see how she feels about all of this, especially because she and Thompson are expecting their first child later this month.
While Kardashian has remained mum on the subject, McCray, the older sister of Kardashian's BFF Malika Haqq, seemed to drop some major shade on her Instagram page amid the allegations. She posted a quote by John Wooden that read, "the best thing a father can do for his children is to love their mother."
Hellooo! Especially when she's still carrying your child. Sheesh.
If McCray's post is directed at Thompson (which I'm betting is), she's not the first celebrity to come to Kardashian's defense. Moments after the cheating allegations surfaced, Amber Rose, who once feuded with the reality star, came to Kardashian's defense with an emotional Instagram post. She wrote, "I know we've had our differences in the past but my heart is broken for you sis smh no one deserves to feel that pain especially during such a sensitive time. God bless you and your baby."
Thompson's ex-girlfriend, and the mother to his 1-year old son, Jordan Craig, also shared a statement on social media that read, "If you respect yourself and you respect others, you would never make light of the misfortune of anyone, nor would you feel indemnified when it comes at the expense of others. Wishing peace for everyone."
I'm so here for the support that Khlo has been getting since all of this started. I can't imagine getting this kind of news while my boo was supposed to be out of town for work.
According to The Daily Mail, on April 7, Thompson and his teammates visited a rooftop bar and lounge in New York City while they were in town for the Cleveland Cavaliers' game against the New York Knicks. Footage obtained by the publication reportedly shows Thompson getting cozy with a woman who was not his girlfriend. Early the next morning, the two allegedly went back to the Four Seasons hotel, where Thompson and his teammates were staying for the game.
The woman who reportedly filmed the clips told The Daily Mail, "I was there and he was on the table right next to us with a group of friends and some girl who he was obviously making out with all night ... They were holding each other and it was so obvious. They were there when I got there and they were part of a big group of friends."
Following the report, TMZ also released footage that reportedly showed Thompson hanging out with three women inside a hookah bar back in October 2017. It allegedly shows the baller tongue kissing an unidentified woman, and motorboating another. At the time of the alleged encounter, Kardashian was three months pregnant with her and Tristan's child.
Situations like these are never easy to get through, but sometimes having the love and support of your family and friends goes a long way. And clearly, Kardashian has some pretty amazing people in her corner.