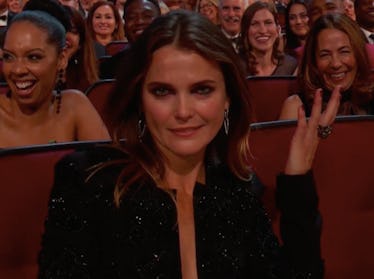 Keri Russell's Reaction To Matthew Rhys' Emmy Awards Speech Was So Funny, It's Now A Meme
YouTube
Keri Russell and Matthew Rhys' The Americans ride has officially come to a close. Their hit FX drama aired its final episode in May 2018, and its leading spies, Keri Russell and Matthew Rhys, both snagged Emmy Award nominations in the Lead Actor/Actress in a Drama Series categories. Russell ended up losing out to Claire Foy, but Rhys took home the win for his performance on the show's final run. The real-life couple has been together for a couple years, but considering Keri Russell's 2018 Emmy Awards reaction to Rhys joking about Glen Weiss proposing to his girlfriend at the Emmy Awards in his speech, it doesn't look like she's interested in the tradition of marriage just yet. That, or she's not into big proposals (girl, same).
When Matthew Rhys won the Lead Actor in a Drama Series category at the Emmys on Sept. 17, he got up on stage and thanked the cast and crew of The Americans (which had won an Emmy earlier in the night for the writing of its series finale, "START"). Last but not least, he thanked Keri Russell, with whom he has a son named Samuel. He gave their son a shout-out in his acceptance speech hoping he was in bed, and then eventually got to Russell, who was sitting in the front row. "And finally, to the woman who truly got me this award," he said, "who just stands in front of me every day and just puts up with me. She said, 'If you propose to me, I'll punch you clean in the mouth.'" LOL.
He was, of course, referencing the moment earlier in the show when Academy Awards director Glenn Weiss proposed to his girlfriend during his acceptance speech for the Outstanding Directing of a Variety Special category.
In the middle of his acceptance speech, Weiss panned to his girlfriend Jan Svendsen and said, "You wonder why I don't call you my girlfriend? It's because I want to call you my wife." The whole crowd (Leslie Jones, especially) stood up in shock and excitement over the romantic moment, and I'm just wondering how we've had 70 years worth of Emmy Awards without this happening? Has this happened? Send me links, people!!
Once Svendsen got on stage, Weiss continued, "I want to put this ring that my mom wore on your finger in front of all these people and in front of my mom and your parents watching from above. Will you marry me?" She said yes, and the crowd went wild. It was a cute as hell moment that Keri Russell apparently never wants to happen to her ever. Respect.
Side note: I had zero idea that Matthew Rhys had an accent. Shook. Oblivious to life and shook.
Russell's reaction to Rhys telling the crowd she would punch him in the face if he proposed to her during his speech is the internet's new favorite unbothered meme.
We stan an unbothered queen who doubles as a Russian spy!
Keri Russell criminally never won an Emmy for her performance on The Americans, but an unbothered queen can't be bothered by that. Thank you for the memes, Keri.