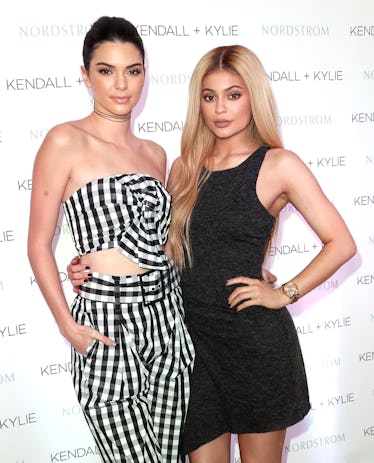 Kendall & Kylie's Clothing Line Is Having A 70 Percent Off Sale — Just In Time For July 4
Frederick M. Brown/Getty Images Entertainment/Getty Images
Thanks to a wonderful holiday known as the Fourth of July, a myriad of retailers are preparing for celebratory sales that will offer discounts so amazing they'll be hard to believe. The Kendall + Kylie sale is one such savings bonanza and I use that word in all seriousness because the deals they're about to offer are really that good.
From July 2 through July 7, you'll be able to get 70 percent off ALL MERCHANDISE. See? I told you it was wild! All you have to do is use the code 70PERCENTJULY4 upon checkout and watch those savings roll in. Additionally, you can use the code 15PERCENTJULY4 on all warehouse styles to get an extra 15 percent off.
If you've never shopped Kendall + Kylie before now is absolutely the time to do it. The line is super fashion-forward, trend-based, and chic—which should come as no surprise seeing as it's designed by a beauty mogul and a supermodel—and it's usually not that cheap. By no means do its prices compare to those of designer labels but they're certainly a step up from those at retailers like Urban Outfitters and Forever 21. If I were you, I'd head to their website now and fill my cart so that as soon as July 2 hits I could checkout at warp speed. With discounts like these, items are bound to sell out.
Flutter By
Good white dresses are so, so hard to find, which is why this one is so covetable. It features an asymmetrical strap detail, a ruffled neckline, and randomized paneling on the skirt. It's intriguing but also sweet—perfect for graduation, brides-to-be, and beyond.
Total Transparency
I'm ALL about this totally see-through mesh top. I love the ruching detaila long the bodice, which gives it a more textures effect, while the dangling ribbons from the bodice and sleeve add some extra details. Wear it like above or with a black leather skirt and sky-high heels for a smoldering night out.
Ruff Life
Bardot style but with a very ruffly twist! This off-the-shoulder top features a stretchy lace bodice meaning it'll be comfy for all, but where it really shines is in it's neckline. A giant ruffle cuts across at the shoulders while bows hand down from either side, giving the top a gutsy and romantic look.
Extra Support
Built-in bustiers are having a moment in fashion and this dress featuring a super subtle one encapsulates the trend well. It's casual but with a high-fashion twist and looks ace paired with sneakers.
These Boots Were Made For...
Because white boots will never go out of style—you can wear them with literally anything. Their low heel make them super comfortable while their pointed toe amps up their sexiness.
Garden Party
A sweet floral dress for an equally lovely summer. Wear this to weddings, parties, brunches and beyond.
You Do You
This dress is actually a two-in-one, as it can also be worn as a skirt. Whether you wear it alone or over a bodysuit, its asymmetric hemline will pack a major stylish punch.
Shine Central
When I see girls rocking leather pants, a band tee, and some super rad boots, I always wonder why I haven't made that exact look my everyday uniform. It's simply the coolest. Add these patent pants to your repertoire to nail the aesthetic.
Shady Lady
Kris Jenner?? Very Momager in the best way possible.
Strings Attached
This twist on the classic shirtdress includes a mock corset and lace-up back. Business in the front, party in the bak.