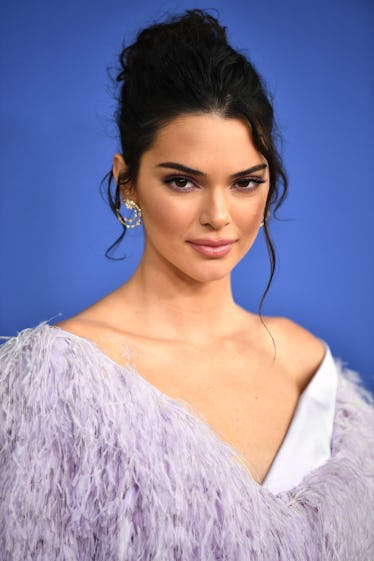 Kendall Jenner Called Her Childhood Videos "Ugly," But They're Actually Cute AF To Watch
Dimitrios Kambouris/Getty Images Entertainment/Getty Images
If you think that the Kardashian siblings never went through an awkward phase, you are 100% completely and totally wrong. While the people we see on our screens today are glamorous AF, it wasn't always like that — and the siblings themselves are the first to admit it, apparently, which I love. In a bonus scene from Keeping Up With The Kardashians, our girl Kendall Jenner tells her stylist how she really feels about how she looked when she was younger, and let me tell you, you will reflect back on your own adolescence and literally think, "Same." And honestly, Kendall Jenner's childhood videos are a hearty mixture of embarrassing and adorable — so basically just like everyone else's youth, too.
Let's cut right to the chase here: in the bonus scene of KUWTK, Kendall Jenner takes a break from a photo shoot and sits down with her Gravity Blanket, which helps to ease her anxiety. She pulls up an old video of herself on her phone screen and shows hairstylist Jen Atkin the amazing throwback video.
"How ugly we were — like, the glow up is actually just nuts," Kendall says, as the video onscreen depicts her and her siblings running around momager Kris Jenner's bedroom.
We see Kendall and Kylie pushing each other around (as any pair of young siblings would do), and then we hear Kris chime in, telling the girls, "Money doesn't grow on trees," to which Kendall replied, "Yes it does. It's paper."
The sass is real, guys.
Then the video cuts to Kendall imitating older sister Kim, talking to the mirror, saying, "I am Kim Kardashian. And everyone does what I say, and soon, I'll be queen of the world!"
I'm assuming Kim's natural reaction was something like this:
Atkin asks Jenner "what voice she was using," adding that she sounded "like a valley girl," Jenner defends herself by saying, "I'm a baby, Jen! I'm like 14!"
Atkin continues, telling Jenner jokingly that she looks like "a housewife from Orange County that has like, 3 kids."
Once the video ends, Atkin agrees with Jenner, saying, "The glow up is real."
I mean, who would have thought that our little Kendall would go from this:
To this?
Proud of you, Kendall!
It's also super refreshing to see just how upfront she is with her anxiety onscreen, and just how candidly Kendall Jenner talks about the difficulties she faces when her anxieties get the best of her. In an interview with Harper's Bazaar, she said,
...I have such debilitating anxiety because of everything going on that I literally wake up in the middle of the night with full-on panic attacks. Where do I even start? Everything is so horrible, it's hard to name one thing. I just think that the world needs so much love. I wish I had the power to send Cupid around the planet, as cheesy as that sounds. You go online and you see everyone saying the worst things to each other, and it's hard to stay positive. It's hard not to get eaten alive by all the negativity.
It seems like Kendall is truly living her best life and kicking her anxiety's ass, so let's give her a standing ovation for being so damn fearless. She's not only been awesome to watch grow up, but clearly, to glow up as well.