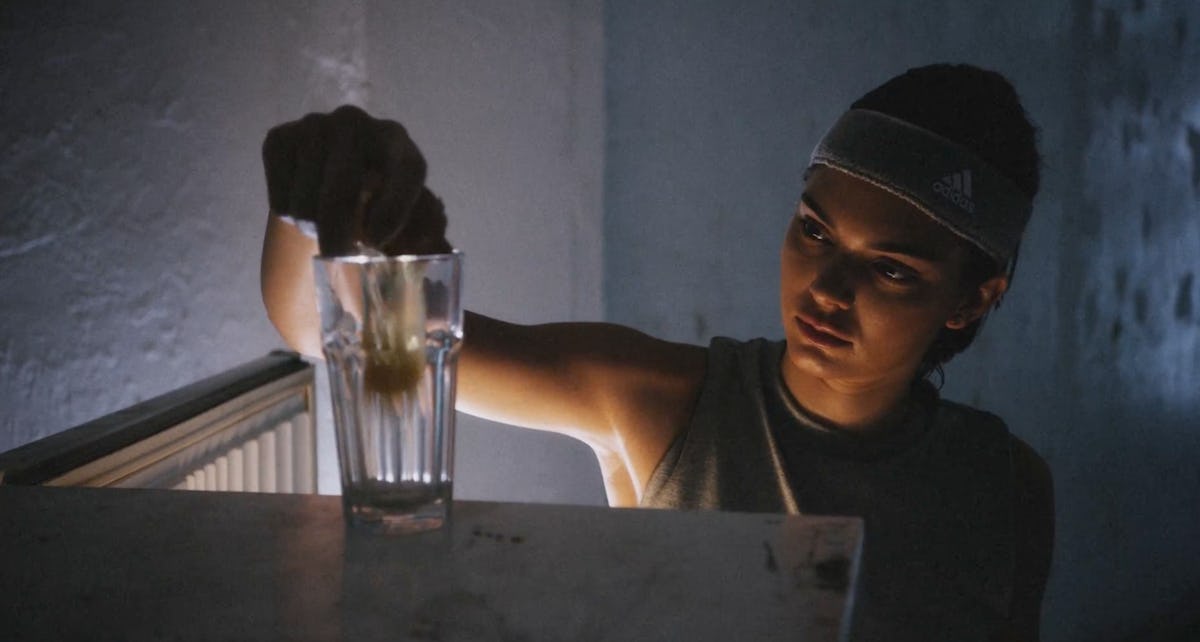 Kendall Jenner's 2017 LOVE Magazine Advent Video Includes Her Drinking Egg Yolks
YouTube
For those of you who are casual, everyday civilians and might not closely follow the ins and outs of the modeling industry, let me enlighten you. For the past four years, British magazine LOVE has created a video "advent calendar" full of 31 days of seriously stunning models doing... stuff. This year, the theme is #StayStrong, and each model is portrayed doing some sort of physical fitness activity. On Dec. 4, Kendall Jenner's 2017 LOVE magazine advent calendar video dropped, and it involves her chugging raw eggs and shadow boxing. You know, just as an example.
While other models are videotaped in their literal skivvies, Jenner is the most covered up lady we've seen so far this year. She spends most of her one minute and 21 seconds jumping rope, doing push-ups, and mimicking famous fictional boxer Rocky. In some fancy special effects moments, she even dresses up as Rocky's girlfriend, Adrian.
The video begins with Jenner cracking and then chugging raw eggs from a glass, and finishes off with a hilariously failed attempt at a one hand push up. At the end of each video, the models all say the words, "Stay strong."
Take a look at Jenner's heroic workout efforts.
Her video is already up to nearly 17 thousand, and that's only having been posted for less than a day. According to LOVE's website, 84 million people tuned in to the 2016 advent calendar, and numbers are suspected to surpass that this year.
Editor in Chief, Katie Grand, says, "It's festive, it's fun and it's everything we love about women enjoying being women, on their own terms."
In Style reports that for Jenner's video, the 22-year-old model and reality TV star wanted to do something "cinematic." Reportedly, she had her personal trainer on set to help nail Balboa's moves, and she really did swig from that yolky cup IRL.
I die.
In a statement, Jenner said,
When you get asked to shoot the advent calendar, it's highly flattering. It's a chance to have fun and embrace a strong self and always a good time.
To be honest, this year's compilation video is intense. It's full of staggeringly-stunning women rolling around, lifting weights, doing various sporty things, and even rubbing spaghetti all over themselves.
Model Emily Ratajkowsi "carbo loads" in her video, which is basically endless amounts of footage of her eating noodles and throwing them around. LOVE quotes her saying,
In the wake of women coming forward with incredible amounts of sexual harassment cases, I have been so disappointed to hear women talk about 'modesty' and 'our responsibility' as if we need to, yet again, adjust to make it 'easier' for the rest of the world. I'm tired of having to consider how I might be perceived by men if I wear a short skirt or post a sexy Instagram. I want to do what I want to do.
Evidently, that involves lounging in a bottomless amount of spaghetti. (Weird, that's also my dream too. But, something tells me I would look a little different doing it.)
Launching this year's calendar is model Ashley Graham, who straps a sled to her torso and sprints down the street. Her video is fierce, iconic, and makes me want to do weird things like drag heavy objects with my hips, something I can honestly say I would never, ever consider doing otherwise.
At the end of her video, Graham is quoted saying,
Shooting the advent calendar is a true expression of self-love. We are powerful, we are resilient, and we run the world.
Catch all 31 days of video on LOVE's website, and happy holidays to everyone on every day, but especially Kendall Jenner, today!
Check out the entire Gen Why series and other videos on Facebook and the Bustle app across Apple TV, Roku, and Amazon Fire TV.